Baratza Encore and Oxo Conical are two popular coffee grinders in the market. A user can be confused while buying one since their basic features are nearly the same. So, which one should you get?
Baratza Encore is a powerful grinder with multiple precise grind settings. In contrast, Oxo Conical ensures accurate grinding time with energy efficiency.
In this post, we will compare Baratza Encore vs. Oxo Conical to help you find out the most suitable one. Enjoy!
Baratza Encore vs. Oxo Conical: Comparison Chart
| | | |
| --- | --- | --- |
| Title | Baratza Encore Grinder ✔️✔️ | Oxo Conical Grinder ✔️ |
| Manufacturer | Breville Group Limited. | Helen of Troy Limited. |
| Model  | Baratza Encore. | Oxo Brew Conical. |
| First release date | February 5, 2020. | July 2, 2018. |
| Materials  | Alloy steel. | Stainless Steel. |
| Power button | Regulator. | Pushing switch. |
| Grind timer | No timer included. | 30 seconds timer included. |
| Hopper capacity | Up to 227 grams of coffee beans. | Up to 340 grams of coffee beans. |
| Ground container | 140 grams of ground coffee. | 110 grams of ground coffee. |
| Grinder type | 40 mm burr conical. | 40 mm burr conical. |
| Grind settings | 40 grind settings for precise grinding. | 15 grind settings with Micro settings. |
| Motor  | A high torque DC motor with 550 RPM speed. | A high torque DC motor with 400 RPM speed. |
| Wattage | 200 watts. | 150 watts. |
| Product dimension | 4.7 × 6.3 × 13.8 inches.  | 5.3 × 7.75 × 12.8 inches. |
| Weight  | 3093 grams. | 2984 grams. |
| Convenient for | Entry-level users. | Entry-level users. |
| | See Baratza More Features | See Oxo More Features |
Differences between Baratza Encore and Oxo Conical
Company Background
Baratza:
Baratza is an American coffee appliance company. Kyle Anderson and Kyra Kennedy founded this company in 1999. Since the beginning, the brand has been very popular for manufacturing and distributing high-quality coffee grinders.
It has been awarded several times for unique and convenient coffee grinders. In 2020, home appliance giant, Breville will own the company and makes it a subsidiary brand for their grinder product line.
Oxo:
Oxo is also an American kitchen appliance company. In 1990, Sam Farber and John Farber founded this brand. The company has been highly focused on designing more comfortable cooking tools with better grips since its beginning.
General Housewares Corporation purchased Oxo in 1992. However, the company was owned by Helen of Troy Limited in 2004 as a subsidiary.
Award and Brand Recognition
Baratza:
In 2016, Baratza won the Best New Product award from SCAA for the Sette 270W – a uniquely designed grinder.
The company was also awarded by SCAA in 2013 for the Baratza Forté – a high-performance espresso grinder.
Moreover, Baratza won the SCAA Best New Product award in 2011 for the Esatto – a programmable coffee scale, and Vario-W – a real-time weight-based grinder.
Oxo:
In 2020, Oxo won the Green Good Design Award for its revolutionary faucet design.
The company also received the "Best of the Best" Bronze award at the Housewares Design Awards festival.
In 2016, Oxo won two major prizes including the Excellence in Innovations Award and the Innovation in Product Award.
Additionally, Oxo was enlisted by the leading US magazine, Fast Company, in their most innovative company award.
Baratza Encore vs. Oxo Conical: Product Comparison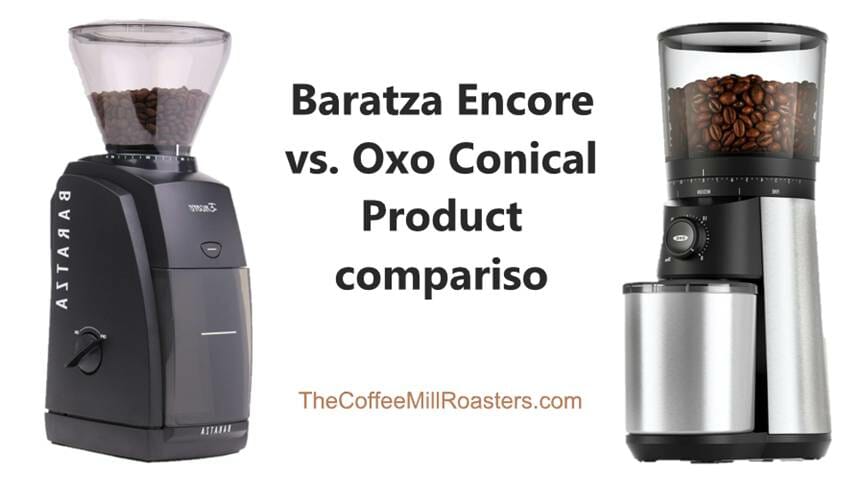 Both products have some differences and similarities. So, analyzing both sides will be helpful for users to make an accurate buying decision.
Differences between Baratza Encore vs. Oxo Conical Grinder
Hopper and Ground Capacity:
Baratza Encore has a smaller hopper than Oxo Conical. In contrast, the Baratza's ground container is larger than Oxo Conical.
So, users who need more hopper capacity should go for Oxo Conical. On the other hand, you should pick Baratza Encore if you need more ground coffee at a time for brewing.
Motor:
Baratza Encore has a DC motor with high RPM. A high-speed motor usually causes overheating. So, the manufacturer has included a thermal overload cutout to protect its motor.
Oxo Conical also has a DC motor with low RPM. Naturally, it will generate less heat. So, the manufacturer did not add any overheating protection to this grinder.
So, technically Baratza Encore has a better motor with essential safety features.
Wattage:
Baratza Encore is a high-wattage appliance. It will consume more electricity during operation. In contrast, Oxo Conical is a low-wattage appliance that consumes less electricity.
That's why Oxo Conical is a good option in the case of energy efficiency.
Grind Settings:
The difference between these two grinders is huge when it comes to grinding settings. Baratza Encore provides 40 grind settings. But, Oxo Conical has only 15 grind settings.
The distinction is so big and Baratza Encore will be much better for precise grinds.
Grind Timer:
A timer is an essential feature of a bean grinder for having a particular grind size.
For example, crushing coffee beans for 8 to 10 seconds is recommended for coarse grinding. Similarly, 10-15 seconds is suggested for a medium grind.
Baratza Encore has no timer. But, Oxo Conical has a timer that you can set for up to 30 seconds.
It is a great advantage for Oxo Conical users.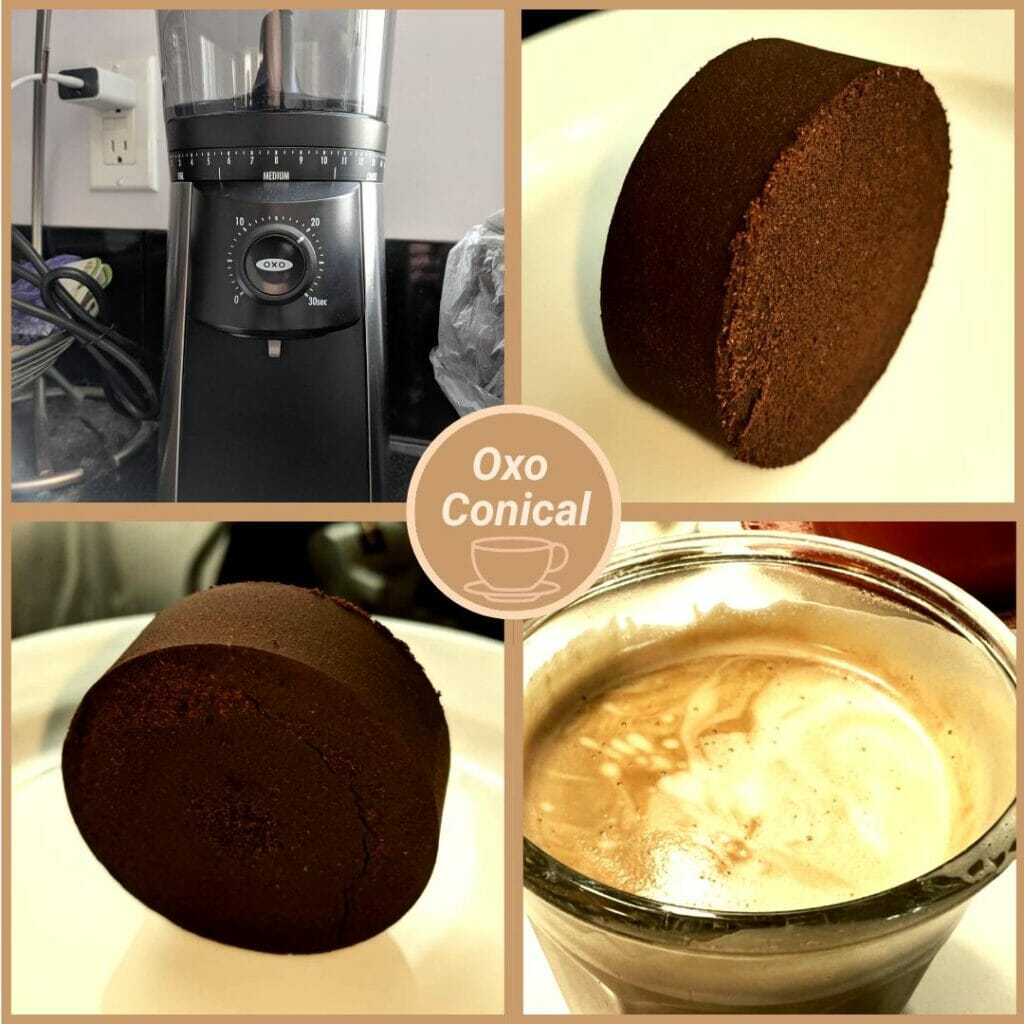 Similarities between Baratza Encore vs. Oxo Conical
Both of these coffee bean grinders are designed for entry-level users.
They come with a similar type of burr grinders.
The dimension and weights of the two products are nearly the same.
Read: Our comparison of the Baratza Sette 30 vs. Breville Smart Grinder Pro
Frequently Asked Questions
Is a conical coffee grinder better?
Conical coffee grinders perform better than the blade and flat burr grinders. They produce high-quality grinds for better brewing and extraction. Also, conical grinders waste less ground while grinding. They are also easier to clean. For many other reasons, users now prefer coffee grinders with conical burr.
How long do conical burr grinders last?
A conical burr grinder lasts up to 10 years on average. However, longevity can increase or decrease, depending on its uses and maintenance. If you use and maintain a coffee grinder carefully, it can perform up to its maximum lifespan.
How do you know when a burr is dull?
When the burr of a coffee grinder gets dull, it will start working slowly. Gradually, the ground coffee will be similar to paste instead of neat ground. These are common signs that your burr grinder is no longer crushing coffee beans properly.
How often should you clean a burr grinder?
Cleaning your burr grinder every two weeks is a good practice. But, the frequency can be changed depending on how much the machine is being used.
Which One Should You Buy?
Our Baratza Encore vs. Oxo Conical analysis reveals that both grinders are excellent for entry-level users.
In most cases, Baratza Encore seems to be the winner. It has a better motor, very precise grind settings, and more ground capacity. That's why its price is comparatively higher. But, investing in this grinder will be worth it in the long run.
On the other hand, Oxo Conical is also a good coffee grinder with decent features. Due to the lower price, users have to sacrifice some conveniences. It has a less powerful motor and few grind settings compared with the Baratza Encore. But, it is still an admirable budget-friendly grinder if you want quality.
Our Final Pick – The Winner
✔️😊✔️Baratza Encore For:

• Powerful Motor
• More Ground Capacity
• 40 Grind Settings
• Durability
✔️Oxo Conical For:
• Affordable Price
• Time Setting feature
• Low-wattage
Here is a video to watch to get more idea:
Reference:
https://baratza.com/grinder/encore/
https://www.oxo.com/conical-burr-coffee-grinder.html