A Breville espresso machine can have an unexpected technical issue suddenly. For a solution, you may need to claim a warranty for replacing or repairing the faulty machine, mentioning its serial number and batch code.
You will find the serial number and batch code under or back of the machine printed on a sticker. Unfortunately, many Breville users don't know where the serial number is.
In this post, we will share how to look up Breville serial number and find a product's manufacturing period through the code. Let's explore.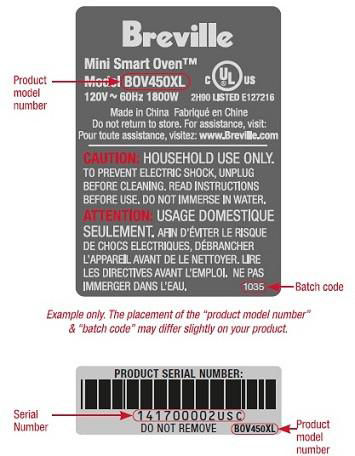 How to Lookup Breville's Serial Number, Batch Code, and Manufacturing Date?
You will need the batch code and manufacturing date for a product warranty or other services from Breville. But, many users are clueless about where to find this information.
The above sticker is from Breville, where the batch codes and serial numbers are mentioned.
Breville's official website says that users will find this sticker under a coffee maker or espresso machine. Sometimes, you may find this sticker on the back side of a Breville appliance.
So, you have got the product batch code and the serial number. But where is the manufacturing date of your Breville coffee machine?
Unfortunately, Breville doesn't release the manufacturing date of a product. Instead, the company provides a serial number that includes the manufacturing year.
For instance, the serial number mentioned on the above sticker is 141700002USC. Here, the first two digits represent the manufacturing year of the product, which is 2014.
If you need to know the exact manufacturing date of your coffee maker or espresso machine for servicing, you may directly contact Breville, mentioning its model and serial number.
Read More: Breville Coffee Machine not Pumping Water – Solution
Why Does Breville's Serial Number Include Letters?
You may have noticed that Breville's serial number combines digits and letters. We already know that the digit indicates the manufacturing period and other relevant things. But what about the letters?
It is a mystery because each manufacturer uses them for different purposes, and Breville surely follows the same strategy. The letter can be a unique identifier representing additional information about an espresso machine.
Sometimes, letters are used in a product's serial number to specify its version. For example, a coffee machine with the serial number "1A" can represent the first version, and "1B" can describe the revised version.
Why Is Product Batch Code and Manufacturing Date Important?
Many consumers think that a product's batch code and manufacturing date are essential to have a warranty only. But, this information can be equally helpful to consumers and manufacturers in the following ways.
A batch code identifies hundreds of coffee machines manufactured in a month.
The code also helps the company track if users face the same issues with the machines from the same batch.
The manufacturing date of a coffee machine is crucial to know when it is made.
It also lets you know how long the machine has been stored.
The date also represents the machine's age and whether you should purchase it.
Read More: How often to Replace Coffee Maker?
How Do You Get A Breville Warranty For A Faulty Coffee Machine?
If you are having technical issues with a Breville coffee machine, the brand encourages you to claim a warranty in a specific way.
According to Breville's official website, you don't have to return a faulty product to the store. Instead, you can directly contact Breville mentioning the product model number, batch code, and serial number. To claim the warranty, you must have the original purchase receipt or its copy.
Breville also mentions that you will get a pre-paid shipping label via email if your product meets the criteria of Breville's warranty. Using the label, you can send the product to Breville for replacement or repair at no cost.
Breville can contact you while repairing your product for further information; the process usually takes around ten days.
How Long Is The Breville Warranty For Coffee Machine?
Breville offers at least one year warranty for coffee and espresso machines from the purchase date. If you find a defect or experience any technical issue, Breville will repair or replace the product at no cost based on the product's condition.
Note that some specific models and product components might have longer warranty periods. So, you should contact Breville and describe your issue thoroughly before claiming a warranty.
Frequently Asked Question
Can my Breville espresso machine be repaired?
Yes, your Breville espresso machine can be repaired. Breville has professional technicians who repair faulty coffee and espresso machines.
How can I contact Breville customer service?
You can visit Breville's official website and its "Support" page. Here you will find a contact number to call the customer service team.
Can you service an espresso machine frequently?
It is a good practice to service an espresso machine every three months to avoid minor issues.
Final words
Finally, we learned how to look up the serial number of your Breville coffee machine. This code is necessary since you can use the number to identify a machine's manufacturing date and claim a warranty. If you have ever got a problem with your Breville coffee or espresso machine, ensure you have accurately provided the serial number to the support team.

Reference: