Rancilio Silvia is a major coffee appliance for brewing high-quality Espresso. But, owners of this Espresso machine often struggle to find the best grinder for Rancilio Silvia. It is because you need a fresh and fine grind for maximizing its Espresso performance.
So, before buying a grinder, you need to understand if it can prepare the required grinds for this Espresso machine. We have made a list of the best grinder for Rancilio Silvia that seems well compatible.
Our Recommended Grinders

Coffee Grinders for Rancilio Silvia
Let's check it out.
1. Rancilio Rocky Espresso Coffee Grinder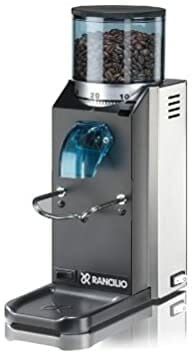 Rancilio Rocky SD in brief:
50mm commercial burr
166-watt direct-drive motor
RPM: 1725
Hopper capacity: 295 grams
Quick spin adjustment
Why did we choose it?
Italy has a historical relationship with coffee. It is called the capital of coffee since the country introduced coffee beans to Europe for the first time in the 16th century.
So, the country is full of many coffee variants and reputed coffee machine brands. Rancilio is one of them, manufacturing outstanding coffee appliances for nearly a hundred years.
Since you are looking for the best grinder for Rancilio Silvia, this product from the same brand will be very suitable.
You will need fresh fine ground for excellent Espresso shots from Rancilio Silvia. This Rancilio Espresso grinder comes with a 50mm burr that finely crushes coffee beans according to your requirements.
Along with fine ground, you may also need different types of grounds, including coarse, medium, fine, extra fine. So, Rancilio has designed it with 55 different settings for grinding beans in specified sizes. You can get your favorite grind size just by rotating the hopper of this Rancilio coffee grinder.
The powerful and quick motor is a common requirement for most grinder users. This device has a 166-watt direct-drive motor that works without any mechanical transmission. As a result, it can grind coffee beans with full power at 1725 RPM.
But, this Rancilio burr grinder is very quiet during operation despite having such a powerful and fast motor.
Espresso lovers always look for a grinder with a bigger hopper capacity. It helps them to avoid repeated grinding for big Espresso servings. Rancilio Rocky SD can hold and crush up to 295 grams of beans at a time. Now, grind coffee beans once and brew multiple cups of Espresso.
Issues like jamming and overheating are alarming for a burr grinder. However, it is equipped with thermal protection that instantly shuts the grinder in such cases. Besides, the device has excellent safety features to prevent rocking and torque.
Though Rancilio Rocky SD is a commercial grinder, you can use it at home for a fantastic result.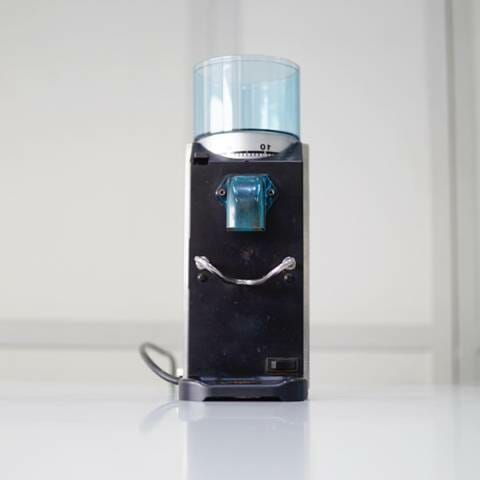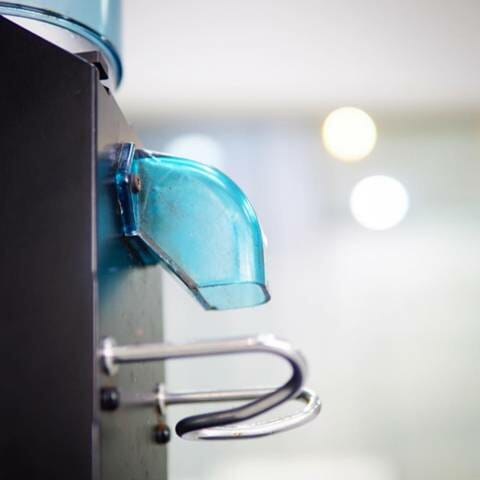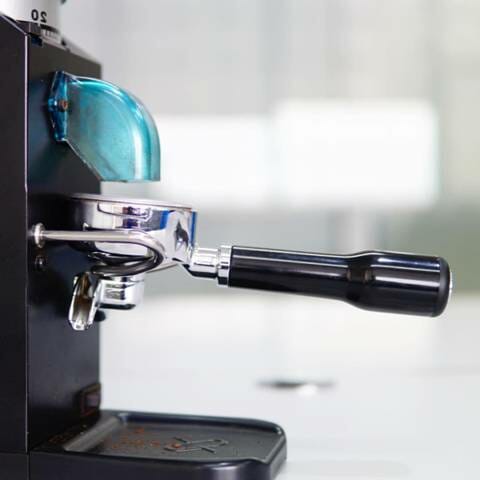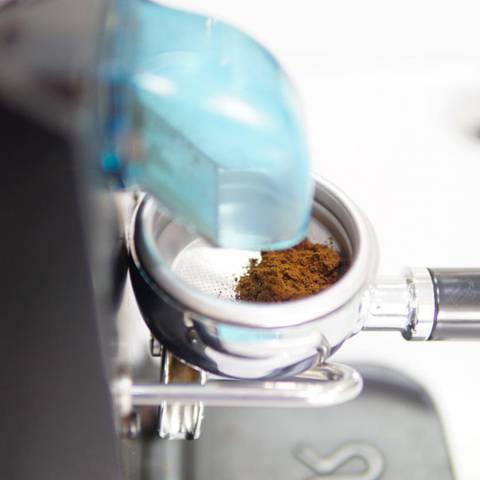 Is it worth buying?
Rancilio Silvia and Rocky grinder are very compatible with each other. It will ensure quick and easy grinding because of its versatile burr grinder and powerful motor.
The Rocky grinder has a bigger hopper to reduce repeated grinding. Besides, it comes with safety features to protect the machine's motor and burr.
Overall, Rancilio Rocky SD is a convenient product for intermediate users.
Pros
Powerful burr grinder
Precise grinding
Safety features
Single-button operation
Cons
The placement of the power button could be better.
2. Rancilio HSD-ROC-SS Rocky Espresso Coffee Grinder
Rancilio Rocky SS in brief:
50mm commercial grinder with doser
166-watt direct-drive motor
RPM: 1725
Hopper capacity: 295 grams
Quick spin adjustment
Why did we choose it?
Rocky is a popular coffee grinder series by Italian Espresso machine manufacturer Rancilio. A Rancilio Rocky grinder is an optimal companion of Espresso machines like Rancilio Silvia. However, burr grinders by Rancilio are also preferred by Espresso machine users from other brands.
Considering the popularity of the series, we would like to introduce you to the Rancilio Rocky SS. If you check its specification, you will notice this item has similar features to Rancilio Rocky SD.
But, a big difference between these two Rancilio Silvia grinders is the built-in doser. Rancilio Rocky SS is a burr doser-grinder.
A doser-grinder comes with a ground chamber to store freshly crushed coffee ground. There is a pie-shaped divider inside the chamber. When you pull the chamber handle, the divider rotates and delivers 7 grams of fresh ground coffee.
A Pie-shaped divider is an excellent feature of a grinder for many reasons. It is because 7 grams of coffee is a perfect measurement for a single shot of Espresso. Therefore, if you want to brew a double shot, you have to pull the handle twice.
So, a doser definitely reduces guesswork and helps to brew delicious Espresso each time.
Its transparent hoper with 295 grams of bean capacity is ideal for home use. The amount of beans lets you brew several cups of Espresso by a single grinding.
Rancilio Rocky SS can grind fine ground for brewing Espresso with Rancilio Silvia. However, this 50mm burr grinder can prepare 55 different grinds for specified coffees. You just have to decide the grind you need and rotate the hoper accordingly.
Moreover, its powerful motor with high RPM provides excellent bean crushing performance. In short, Rancilio Rocky SS is a labor-saving product for Espresso lovers.
Is it worth buying?
Inaccurate ground measurement is a common mistake of beginners during brewing Espresso. Besides, professionals don't want to waste their time measuring coffee grounds before brewing. Since this Rancilio grinder comes with a doser, it is a remarkable product for both starters and experts.
Pros
Includes doser
Powerful and quiet
Quick grind size adjustment
Precise ground measurement
Cons
Cleaning the grinder can be challenging.
3. Baratza Encore Conical Burr Coffee Grinder

Baratza Encore in brief:
40mm conical burr grinder
70W high torque DC motor
RPM: 550
Hopper capacity: 227 grams
40 grind adjustment settings
Why did we choose it?
Baratza is a subsidiary company of the world's famous Breville group ltd. The company was formed in 1999. Since then, the brand has been manufacturing coffee grinders for beginner and intermediate users at reasonable prices.
Baratza Encore is an award-winning coffee grinder with convenient features. Many coffee professionals have praised this device due to its user-friendly performance.
This burr grinder is specially designed for beginners to use at home. It has only two buttons for a simple operation, including the power switch and the pulse button. So, users don't need to have advanced knowledge to use it.
A noticeable feature of this basic grinder is its 40mm conical commercial-grade burrs. Conical burr has many advantages over a flat grinder. For example, it wastes fewer grounds than a flat grinder and retains a better flavor of beans.
Baratza Encore is run by a 70W high torque DC motor. Though the wattage is lower than previous products, it is sufficient for grinding coffee beans. Moreover, the RPM of the motor is 550 only. It seems very slow to users. But, it may provide you with some hidden advantages.
A grinder motor with a slow RPM prevents overheating noise and static issues. So, we should not judge a grinder by its features only.
Espresso lovers who hate repeated grinding will prefer its larger hopper. It can hold and grind 227 grams of beans at a time. Besides, you can adjust the grind size by using its rotatable 40 grind adjustment settings.
After crushing coffee beans, the grinder stores fresh ground in the lower chamber. Unfortunately, there is no dosing option in the chamber. So, you have to measure ground coffee each time manually.
Many users, particularly beginners, fall in trouble while cleaning a burr grinder. They don't understand how to separate the parts and clean them. However, Baratza Encore requires no tool to remove the burr. So, the cleaning is very easy.
This entry-level grinder may lack some advanced features. But, it is more than enough for beginners to use at home.
Is it worth buying?
You should not compare it with an advanced grinder. The manufacturer says that it is designed for beginners. But, this grinder is equipped with all the essential features you need to grind beans for Rancilio Silvia.
Undoubtedly, Baratza Encore is an appropriate bean grinder for people who are starting their Espresso journey.
Pros
Multiple grind adjustment
Simple operation
Conical burr
Burr heat-resistant
Easy cleaning
Cons
Slower grinding
No dose control
4. Eureka Mignon Notte Espresso Grinder
Eureka Mignon Notte in brief:
50mm flat burr grinder
210W powerful motor
RPM: 1350
Hopper capacity: 340 grams
Infinite grind settings
Why did we choose it?
Eureka is another popular Italian coffee grinder manufacturer. Mignon Notte by Eureka is a professional and powerful tool that you can use at home and in a coffee shop.
Coffee lovers and professional baristas want maximum grind accuracy for brewing perfect coffee drinks. This grinder can be the ultimate grind master to fulfill your needs.
Unlike other grinders with a few grind settings, Eureka Mignon Notte has a grind regulator. As a result, you can get limitless grind quality without resetting the burr.
A regulator is certainly an excellent grinding feature to master your Espresso skill. Since Mignon Notte can prepare any type of grind, you can brew possibly all coffee drinks in the world.
Mignon Notte comes with a larger hopper. You can grind up to 340 grams of coffee beans at a time. A grinding capability like this is acceptable for commercial use too.
Users must admire its extremely powerful motor with higher RPM. Eureka has included a 210W motor with 1350 RPM to grind any kind of bean within seconds.
Considering all these traits, Eureka Mignon Notte is another prime item on our best grinder for Rancilio Silvia list.
Is it worth buying?
This grinder is entirely hand-built with Italian technology. So, if you are an enthusiast of handmade products, this will be an outstanding collection. But, we believe the infinite grind setting is the best thing about the machine.
It is a unique feature that provides the exact grind to let you enjoy any coffee recipe in the world. So, Mignon Notte is a good companion for Rancilio Silvia to brew the perfect Espresso.
Moreover, if you are a coffee shop owner, this grinder is excellent for brewing coffees with a very specified taste.
Pros
Unlimited grind settings
Extremely powerful
Larger grinding
Handmade with quality material
Cons
It makes louder noise while grinding.
5. Baratza Virtuoso+ Conical Burr Coffee Grinder
Baratza Virtuoso+ in brief:
40mm conical burrs
80W high torque DC motor
Digital timer
Hopper Capacity: 230 grams
40 grind settings
Why did we choose it?
Coffee professionals are fond of Baratza grinders because of their user-friendly features and easy operation. Virtuoso+ is another award-winning grinder by Baratza for grinding coffee beans like a pro at home.
It comes with more upgraded features than Encore. You must first notice its digital timer, connected to the motor. The timer allows you to set a grinding time, and the motor will work accordingly.
Though Virtuoso+ has no dedicated doser, the timer can be used as an alternative. According to Baratza, the grinder can crush 2 grams of ground per second. So, you can set the timer and precisely calculate the amount of ground.
A special feature of most Baratza grinders is the conical burr. Baratza has also included a 40mm conical burr to generate less coffee scrap in the grinder.
Virtuoso+ has an upgraded 80W high torque DC motor to ensure better performance than Encore. Unfortunately, the motor has the same 550 RPM. But, a grinder's motor with less RPM can be advantageous to prevent overheating and noise.
You will need a coffee bean crusher that provides coarse to fine grind to enjoy coffee variants. This grinder allows you to have 40 types of grinds using its rotatable hopper. You can crush 230 grams of beans at a time.
After crushing coffee beans, the grinder stores them in the included ground bin. But, you can also remove the bin and collect the ground in the portafilter directly.
In our opinion, Virtuoso+ is a reliable grinder for Espresso machine owners.
Is it worth buying?
Baratza Virtuoso+ is a convenient grinder with a very stylish design. It will surely enhance the beauty of your kitchen counter. Besides, this grinder includes many essential features like a digital timer for grinding accuracy.
So, Virtuoso+ is a very good grinding assistant for Rancilio Silvia.
6. Breville BCG820BSS Smart Grinder

Breville BCG820BSS in brief:
58mm Conical Burr grinder
Smart Dosing IQ
60 precise grind settings
165 Watts motor
Hopper capacity: 450 gram
Why did we choose it?
If you ever find a Breville coffee appliance, look no further! Breville is a 90 years old Australian brand with solid industry experience. It is a big competitor of Italian coffee machine manufacturers because of its advanced technology and elegant design.
In general, a coffee grinder has no work without crushing coffee beans. But, Breville has included smart technologies in the BCG820BSS model to make grinding precise and enjoyable.
Breville BCG820BSS is a smart grinder with a Dosing IQ. You can modify and program grind duration in 0.2-second increments using this particular feature. Thus, the device allows you to have total control over accurate dosing each time.
Along with Dosing iQ, this grinder has many intelligent settings. For example, its pre-programmed function lets you choose the type of your required grind among 60 different settings. So, you don't have to struggle to have coarse and fine ground manually. The grinder itself will help to achieve perfect grind results.
You can monitor your commands by looking at the clear LCD screen. It shows all essential metrics, including your grind setting, crushing duration, the number of shots, etc.
A 58mm conical burr of the grinder is run by a powerful 165 watts motor. Because of the conical feature, it produces less heat and noise. Moreover, a conical burr is comparatively easier to clean than a flat burr grinder.
Breville BCG820BSS has a big hopper with 450 grams of bean capacity. So, you can grind more ground at a time.
The remarkable grinding flexibility is another specialty of this smart grinder. The machine allows direct grinding in any size of pot. It can be a portafilter, an airtight container, a gold-tone filter basket, a paper filter, or something else.
After going through all these stunning features, there is no need to explain that Breville BCG820BSS is the best Rancilio Silvia grinder from a different perspective.
Is it worth buying?
Breville BCG820BSS is not a grinder only. It is the beauty of technology. The device is well-equipped with several futuristic functions. So, it is a masterpiece item for professional use without any question.
On the other hand, it can be an ultimate grind assistant for home users who want a big change in their prolonged coffee journey.
Pros
Dosing accuracy
Extreme grind flexibility
Pre-programming
Bigger bean capacity
Cons
Comparatively low power motor
7. Bodum Bistro Burr Coffee Grinder
Bodum Bistro in brief:
35 mm conical steel burrs
Pre-set timer
Included friction clutch
12 adjustable grind settings
Hopper capacity: 220 grams
Why did we choose it?
Bodum is an admired European brand in the kitchenware industry. It is a Danish-Swiss company, manufacturing quality kitchen appliances since 1944. Bodum Bistro makes a superb grinder for beginner and intermediate users.
They have added a pre-set timer to grind an accurate amount of beans in the device. But, unlike a digital timer, Bodum has used a regulator timer. So, setting the time is very easy. Before switching on the grinder, you have to rotate the regulator to set a grinding time from 5 to 20 seconds.
Each variant of coffee needs a particular grind. For example, you need a fine grind to brew Espresso and a coarse grind for the French press. The grinder comes with 12 adjustable grind settings to satisfy every coffee enthusiast.
Bodum Bistro has a larger hopper with 220 grams of bean capacity that lets you grind a sufficient amount of beans at a time.
A 160-watt motor with 720 RPM runs its 35 mm conical steel burrs.
Small stones in coffee beans can seriously damage the grinding gear. However, Bodum has included a friction clutch to protect the burrs from such incidents.
Besides, the conical burr allows you consistent grinding with no additional maintenance except cleaning.
Overall, Bodum Bistro carries every essential grinding feature that Espresso machine owners truly need.
Is it worth buying?
Bodum Bistro is a cheap and convenient grinder for Espresso machines like Rancilio Silvia. It lacks the advanced features of a grinder. But, rather than a drawback, its basic functions can be useful for beginners. If you want to replace your blade grinder with a good alternative, this item is a superb option.
Pros
Simple operation
Pre-set timer
Protection of burrs
Dishwasher safe
Cons
8. Capresso Infinity Conical Burr Grinder

Capresso in brief:
40mm conical stainless steel burrs
100W powerful motor
RPM: 450
16 Grinder Settings
Hopper capacity: 250 grams
Why did we choose it?
Capresso is a US-based coffee and Espresso machine manufacturer. The company was launched in 1994 in New Jersey. It is one of the recognized brands in the coffee machine industry for providing high-end products.
Infinity is a commercial-grade grinder by Capresso with advanced engineering. The company has manufactured each part of the grinder in the USA. But, all of them are assembled by hand in Switzerland.
They have applied advanced cutting technology to design its 40mm conical steel burrs. So, it can precisely crush coffee beans and provide a high-quality grind each time.
Capresso Infinity has a 16 grinder setting to prepare a wide range of grinds, including extra-fine, fine, regular, and coarse. So, it lets you enjoy different types of coffees like Espresso, drip, French press, etc.
Is it worth buying?
Capresso Infinity is a compact grinder with durable built for crushing coffee beans precisely. It can prepare high-quality grinds for specified coffee drinks within seconds, including Espresso. So, we recommend it as a grinding assistant for Rancilio Silvia.
Pros
Well constructed
Advanced engineering
Multiple grind settings
Sufficient grind capacity
Cons
Frequently Asked Questions
Final words
Since Rancilio Silvia is an Espresso machine, you need a good quality bean crusher for having cluster-free fine grounding. After hours of research, we finally have included some appropriate items on our best grinder for Rancilio Silvia list.
If you want to replace your blade grinder with a burr for the first time, we recommend choosing a basic one from the list. On the other hand, pick an advanced model for taking your grinding skill to the next level.
References: