The moment of making your own coffee is unbelievably satisfying. You get complete control over choosing and roasting your desired beans for brewing delicious coffee.
To roast coffee beans at home, you must have a coffee bean roaster. But what would you do if you didn't have one? Coffee artists have already found a solution. Many people find air fryers as a good alternative to coffee bean roasters. 
In today's article, we are going to learn how to roast coffee beans in an air fryer. Read the post to explore more.
Can an Air Fryer Roast Coffee Beans? Here Is the Truth.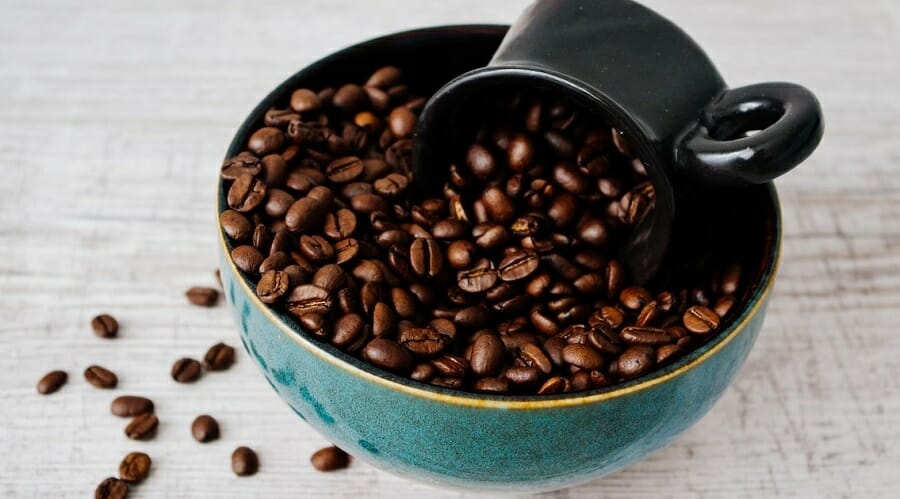 You must understand that air fryers technically are not designed for roasting coffee beans. So, it will be a challenging task undoubtedly. However, true coffee artists always find ways to prepare outstanding coffee under any conditions.
A few different tricks will be required to roast coffee beans in an air fryer. For instance, you need to preheat the air fryer before roasting coffee beans. The ideal temperature for this stage is between 375 to 450° Fahrenheit. 
Besides, you have to spread coffee beans in a single layer into the fryer's basket. This alternative frying technique will help you roast coffee beans perfectly without burning them.
How to Roast Coffee Beans in an Air Fryer at Home?
If you have an air fryer and want to roast coffee beans using it, here are the exact steps to follow.
Step 1: Preheat your air fryer for 3 to 5 minutes at a temperature of around 390 degrees Fahrenheit.
Step 2: Spread the coffee beans in a single layer on the frying tray of your air fryer.
Step 3: Roast the coffee beans for 5 to 7 minutes and stir those beans every 2 minutes. You need to roast them until they are light brown and aromatic.
Step 4: Remove the roasted coffee beans from the air fryer and let them cool before grinding and brewing.
Step 5: If you want to grind roasted beans later, keep them in an air-tight container after cooling. 
Recommended Air Fryer to Roast Coffee Beans: 
Most air fryers are usable to roast coffee beans. However, we would like to particularly mention this West Bend Air Fryer Oven to do this task.
It comes with six cooking functions, including air frying, roasting, and dehydrating. These functions are very suitable for roasting coffee beans and reducing their watery content.
How Long Should You Roast Coffee Beans in an Air Fryer?
All air fryers will not work the same way. So, you should not count time while roasting coffee beans since it depends on the color of the beans.
The color of the coffee beans will let you know when to stop. Check out the following table for a better understanding.
| | |
| --- | --- |
| Beans' color | What does it mean? |
| The beans look light brown | The beans are not roasted yet. It does not have a sufficient aroma and will taste sour. So, keep roasting until it becomes brown. |
| The beans look medium brown | It is edible but will provide you with a mild flavor. If you want a rich aroma, roast the beans a little longer. |
| The beans look dark brown | Your roast is ready with a full aroma and excellent sweetness. It is considered the standard roast commonly used by Americans. |
| The beans look chocolate brown | This is the best roast for intense coffee lovers. It is often called French roast, which is ideal for brewing espresso. |
Advantages of Roasting Coffee Beans Using Air Fryer: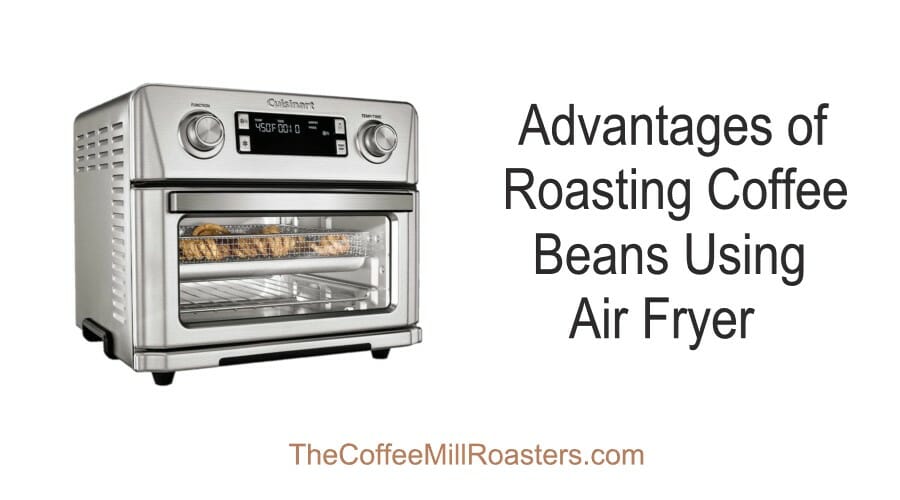 Instead of using a coffee bean roaster, you can get some advantages while roasting coffee beans in an air fryer.
1. It is a quick and easy way to roast coffee beans without advanced roasting knowledge. 
2. Using an air fryer to roast coffee beans is very cost-effective since it is less expensive than other roasting methods.
3. It does not require any special equipment or ingredients to roast coffee beans.
4. Air fryers can perfectly roast coffee beans and make them aromatic.
5. Air-roasted coffee beans are more flavorful and flavor-stable than other roasting methods.
Downsides of Using an Air Fryer as a Roaster:
Though the advantages of roasting coffee beans in an air fryer will make you smile, it is not going to be easy, unfortunately. Read the following downsides of roasting coffee beans in an air fryer. 
1. If you don't know the accurate roasting method, your coffee beans will be poorly roasted.
2. Coffee beans roasted in an air fryer can have the smell of other foods.
3. It will be quite challenging to achieve dark roasted coffee beans in an air fryer.
Frequently Asked Questions
Final Words: 
If you were curious to know whether you can roast coffee beans in an air fryer, the answer is yes. It is also a pretty unique way to do this thing. 
Though coffee bean roasters and air fryers are entirely different machines, both are used to roast coffee beans. The above guide will help you to get the perfect roast every time.
References:
https://www.tastingtable.com/956172/types-of-coffee-roasts-explained/
https://inthekitch.net/how-to-roast-coffee-beans/