A coffee table is an essential piece of furniture in the living room. It is excellent for keeping your coffee cups, books, and other small things organized in a small place. But, a coffee table looks imperfect without a rug under it.
It might be confusing whether or not you truly need a rug for a coffee table. But, a rug can assist in many ways.
A rug under your coffee table will beautify your living room, and if you have a wooden floor, it will also enhance the floor's longevity.
This article will explain the advantages of using rugs. Additionally, we have added a quick guide to help you decide the size and material of rugs for your coffee table.

Should I Use a Rug Under My Coffee Table?
So, do you need a rug under the coffee table? We will say yes. Though most people use them for beautifying their living rooms, rugs are more than that.
Along with decoration, rugs can benefit you in several unknown ways. For this reason, using a rug under a table has become a tradition from the beginning.
Why Should You Use a Rug Under a Coffee Table?
You need to use a rug under your coffee table for the following reasons:
Area Separation
In general, rugs are considered decorating objects for a living room. But, it is more than decoration. A rug defines an area that creates a clear visual existence of your coffee table.
A coffee table, particularly the transparent one, can visually distract without a rug. So, it is an essential object to avoid the disturbing floating appearance of your table.
Comfort and Warmth
Rugs feel more comfortable under your feet than the floor surface. Since rugs are flexible, they absorb the impacts of your footsteps which is great for reducing muscle stress.
Moreover, rugs provide warmth during winder when concrete floors remain cold.
Firm Grip
Most floors, including tile and wooden, are slippery. Slippy floors are quite inconvenient to place your coffee table on.
If your table slips somehow, your coffee set will surely drop on the hard floor. A rug holds the table in place and prevents such incidents.
Noise and Scratch Reduction
A rug decreases noise from a sliding coffee table in your living room. It also prevents walking noise by absorbing the sound. Moreover, it protects your floor from scratches caused by a moving table.
Interior Glamorization
No matter how your furniture looks in a living room, a rug will make the interior design stunning. A perfect rug selection will present your personality as well.
What Size Should a Rug be under a Coffee Table?
The size of the rug and table should never be the same. A rug must be extended from 18 to 24 inches on each side of a coffee table. So, buying a rug 2 to 4 feet longer than a table is recommended.
If you are not comfortable with measurements, check out our quick chart before buying a rug for the coffee table.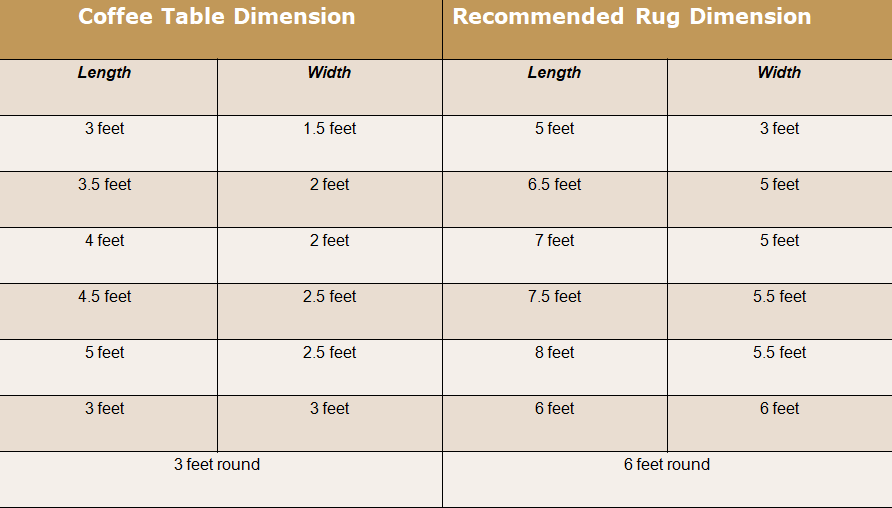 People frequently want to know the perfect size of rugs for their coffee table because they remain confused about the ratio of table and rug.
Before discovering the right rugs, we need to know some common coffee table dimensions. The most common dimension of a coffee table is 36 to 48 inches long and 18 to 24 inches wide.
However, rectangular coffee tables are available in various dimensions. Some universal dimensions [length and width] of coffee tables are 40 × 20/30 inches, 48 × 20/30 inches, and 54 × 20/30 inches.
A coffee table with a 60 × 30 inches dimension is also suitable for a larger living room. For a square table, the 36 × 36 inches measurement is very popular. Additionally, 36″ is a standard diameter for a round coffee table.
Types of Rugs for Coffee Table
Choosing the right material for your rug is another dilemma. There are tons of options that can lead to the wrong purchase. Here are some common rug materials available in the market.
Wool
Wool rugs are the best options if you are fond of comfort and softness. They survive well against water, dust, and dirt. So, wool rugs are perfect to use in damp areas. You can try this Fluffy Faux Fur Sheepskin wool rug.
Silk
Silk rugs are gorgeous to look at and feel. A silk rug under your coffee table represents your elite personality. The only drawback of this rug is its complex and careful maintenance.
Synthetics
Synthetic rugs are made of artificial materials instead of natural raw materials. The common elements of this rug are viscose, nylon, and polyester.
People tend to buy them due to their durability and low maintenance. This Rectangular synthetic rug should be a perfect fit for your coffee table.
Cotton
Cotton rugs are available in multiple colors. So, chances are you can easily find a cotton rug in your favorite color. Moreover, cleaning a cotton rug is very easy. Check this Reversible Cotton Woven decorative rug if you want a low-maintenance rug.
Jute
Jute is a natural fiber that mostly comes from South Asia. It is extremely durable as well as eco-friendly. The absorbent and steady feature of the jute keeps it safe from water damage. This Handwoven Jute Area Rug will be a brilliant choice if you have a round coffee table.
Here is a video tutorial on how to correctly place a rug in the Living Room, Dining Room, and Bedroom.

Final Thought
Do I need a rug under my coffee table? Yes, absolutely. A rug for your coffee table is crucial for multiple reasons. Though people use them for beautification, it has many unseen advantages most users even don't realize. So, buying a rug for your coffee table is absolutely worthwhile.
Along with the color and material, the perfect size of a rug is very important. Coffee tables are available in different sizes. Therefore, you should understand the accurate measurement of your table first and order a rug accordingly.