Which one is the best single cup coffee maker with a grinder in the market? It is often asked by flavored coffee lovers nowadays because the quality and freshness of pre-ground coffee become dull over time.
Grinding whole beans right before brewing is the only way to have super fresh coffee. So, having a single-cup coffee machine with a grinder is an ideal kitchen appliance to enjoy refreshing coffee quickly.
In this post, we will review some of the grinding coffee makers praised by users.

Best Coffee Maker with Grinder Single Cup Comparison Chart

| | | | | | | |
| --- | --- | --- | --- | --- | --- | --- |
|   | Cuisinart DGB550BKP1 | Breville BDC650BSS | KRUPSAuto-Start | KRUPS KM550D50 | Cuisinart DGB-1 | Cuisinart DGB-800  |
| Grind type | Blade | Burr | Burr | Burr | Blade | Burr |
| Brewing capacity | 12 Cups | 12 Cups | 10 Cups | 4 Cups | 3 Cups | 12 Cups |
| Editor's Rating | 4/5 | 4.5/5 | 4/5 | 3/5 | 3/5 | 4.5/5 |
| Action | Buy Now | Buy Now | Buy Now | Buy Now | Buy Now | Buy Now |
How Important Is It To Have A Built-In Grinder?
The freshness of coffee matters. A grinder coffee maker combo is a 2 in 1 device to help make rich and aromatic coffee every single time. So, it is the most desired appliance for flavored coffee lovers.
Two essential tools allow users to grind whole beans just before brewing. Besides, machine grind saves time and effort than hand grinders.
A coffee bean grinder needs additional space to set in the kitchen. However, a coffee machine with a built-in grinder saves space and makes your kitchen counter look elegant.
Buying a coffee maker and a grinder separately costs more. But, the price becomes comparatively lower when they come together. Moreover, the integration reduces electricity consumption too. Thus, it saves money in many ways.
Having a grinding coffee maker helps you from many aspects overall. So, buying a coffeemaker with a grinder can be the best utilization of your money.
Let's jump into our recommended Single Serve Coffee Makers with Grinder
1. Cuisinart Grind & Brew Automatic Coffee Maker
Key features:
24 hour fully programmable
Brew Pause™ feature
Adjustable auto-shutoff – 0-4 hours
12 cup carafe
Charcoal water filter

Since 1971, Cuisinart has been manufacturing high-quality kitchen appliances with user-friendly features. One of the new inclusion to their product line is the automated coffee machines.
The DGB-550BKP1 is a single cup automatic coffee maker by Cuisinart that allows grind and brew together.
This device will say goodbye to your traditional alarm clock by preparing a "wake up" coffee every day. Moreover, it will crush whole coffee beans just before brewing for a fresh and flavorful coffee.
It is a programmable coffee maker with a grinder with a 24-hour automated unit. You can set the entire program in advance for up to 24 hours. Thus, a user gets complete control over switching On/Off and Auto-Shutoff.
For precise flavor and brewing control, it is equipped with advanced features. You can set the number of cups to modify extraction and flavor. For instance, setting the number of cups 1 to 4 will provide better extraction and flavor.
Cuisinart has a trademarked feature called Brew Pause™. It is included in the device to enjoy a cup of coffee before the end of brewing. Besides, the built-in Auto-shutoff program allows you to set a duration to switch off the machine. You can set the time from 0 to 4 hours.
A glass carafe is essential to pour and serve coffee after brewing. The set offers a 60-ounce glass carafe with an ergonomic handle and knuckle guard. Overall, it is an excellent 12-cup coffee maker with a grinder, where each 5-ounce is counted as a single-serve.
Debris in coffee makes the taste muddier. So Cuisinart equips the device with a gold-tone commercial filter and charcoal water filter to prevent all impurities.
The filter area and the grinder chamber of this coffee maker are separate. Both of them are made of dishwasher-safe materials. So, you can clean them regularly without any confusion and make the freshest coffee at home.
This coffee maker can be a perfect appliance to beautify your kitchen. It comes in an elegant Italian style. Besides, the ideal 12×10×17 inch dimensions have made it a compatible device on any kitchen counter.
Pros
Fully automated
Programmable units
Flavor and brewing control
Italian styling with North American Electrical Standards
Easy to clean
Cons
2. Breville BDC650BSS Grind Control Coffee Maker
Programmable auto-start
Integrated and adjustable grinder
Stainless steel burrs
12 cup thermal carafe
Steep and release technology

Breville is an Australian small home electronics brand. It was founded by the Breville group in 1932 in Sydney, Australia. At present, Breville is one of the dominating names in the world for manufacturing high-quality coffee makers.
The BDC650BSS by Breville is another best programmable coffee maker with a grinder on our list. Its Auto Start program allows you to set an accurate time to deliver your fresh coffee. Your machine will automatically start the brewing process right at the programmed time.
We like this single cup grind and brew coffee machine due to its versatile features. It comes with 6 different adjustable grind settings. So, its grinder is compatible with any roast type. You never have to think about the type of coffee beans, whether Brazilian or Columbian.
Its LCD shows if your settings, timer, and number of shots are accurate for full control.
Burr is more convenient than the blade in case of crushing coffee beans. This device is one of the best coffee makers with a burr grinder that allows grind size customization too. If you need a particular type of grind, the Breville BDC650BSS will prepare it without ruining the taste.
Moreover, it will deliver the exact amount of water at the right temperature for perfect brewing. The machine is designed to brew pre-ground coffee with full flavor control. You can set the flavor level accurately with its 8 strength settings.
Breville has included the Steep and Release technology in this coffee maker. So, you can brew coffee straight into a carafe, a cup, and a travel mug without changing the flavor content.
The entire set comes with some essential accessories including a Gold Tone fine mesh filter and a cleaning brush. Moreover, you will get a thermal carafe made of stainless steel. The liquid capacity of the carafe is 12 cups.
It looks gorgeous on any kitchen counter due to its brushed stainless steel finishing. Besides, the 12.5×8.5×16.3 inches is a compact dimension to place it anywhere.
Pros
Programmable grinding and brewing
Built-in burr grinder
LCD for accurate settings
Strength settings for pre-ground
Thermal Carafe
Cons
Needs regular cleaning
Slower operation
3. KRUPS Auto-Start Maker with Built in Grinder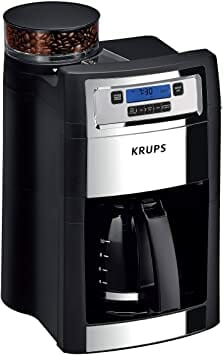 Key features:
Auto Start and Keep Warm features
2 to 10 cup grinder settings
Intuitive controls with LCD
10 cup carafe
Brew and Pause option

Krups is a German brand founded by Robert Krups. Since 1846, they have been manufacturing and marketing different types of household appliances, including coffee makers.
KRUPS Grind Brew Auto-Start is one of the best-selling items in their product line. This auto coffee maker with grinder comes with Auto-start and Keep warm function. So, you can set a brewing and start schedule any time to enjoy your wake-up coffee in the morning.
After brewing your coffee, it will not cool down. Instead, its built-in feature will keep your coffee warm for up to 2 hours at the right temperature. So, you can drink a refreshing coffee whenever you want in this duration.
You may need different types of grounds to make a particular coffee. This single cup coffee maker grinder combination can be your best buddy because of its 5 grind settings. It has a built-in conical burr grinder. So, you can have both coarse and fine grind effortlessly.
Therefore, no obstacle keeps you away from enjoying coffee with a full-bodied taste and rich aroma.
Customization is a common feature of modern coffee makers. Due to its user-friendly modifications, KRUPS Auto-Start is one of the desired single cup grind and brew coffee machines.
The machine has 3 default flavor settings; mild, medium, and strong. They are applicable to both pre-ground and fresh ground coffee. You can set the number of cups for brewing between 2 and 10.
Sometimes, you may need to pause the brewing cycle and pour your coffee immediately. For this purpose, KRUPS has included the Brew pause and Precise pouring function. As a result, you can pause the brewing and pour your coffee any time without waiting.
Along with the modern features, the machine has a crystal-clear LCD screen. As a result, you can check your commands precisely by looking at them. Thus, your coffee-making experience will be easier.
Pros
German standard technologies
Automated features
Diverse grind settings
Distinct flavor options
Instant brewing pause and pour facility
Cons
Carafe with a low liquid capacity
Plastic made body
4. KRUPS Personal Café Grind Drip Maker Coffee Grinder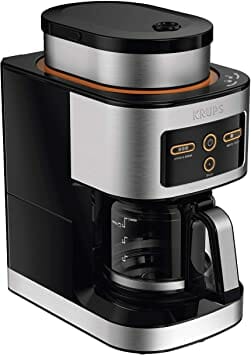 Key features:
Automatic Grind and Brew option
Bold brew function
30 minutes Keep Warm
4 cup carafe
Burr grinder

Krups is a German brand with over 150 years of experience in the home appliance industry. They are popular for designing user-friendly products. Krups KM550D50 is one of the examples of their experience and expertise.
If you are looking for an easy-functioning single cup grind and brew coffee maker, this item can be your best pick. It requires a single press to accomplish a particular task. Krups KM550D50 has only 4 buttons including the Grind and Brew, Brew only, Bold and power button.
You can use it to grind the whole beans and brew pre-ground coffee. It works fine with any type of bean including oily beans.
Unlike other grind coffee machines, it has a very simple function. The machine will start grinding and brewing right after adding fresh beans to the chamber.
Its burr crusher offers you two kinds of grinds including coarse and fine. So, you can make your coffee with the accurate ground needed. From this aspect, it is one of the best burr grinder coffee makers to use at home.
However, the bold brew option is a unique feature of this machine. Krups has included a dedicated Bold button to deliver you a full-bodied coffee aroma. Besides, the machine will keep your coffee warm automatically for up to 30 minutes.
Krups KM550D50 is a compact coffee brewer with a grinder. Due to the small size, its glass pot has only 4 cups of liquid capacity. Unfortunately, this is a big drawback for this machine. In contrast, the 9×6.3×11.6 inches dimension can be excellent for a small kitchen.
Cleaning is a big challenge for most coffee makers. Besides, users remain worried about using a suitable dishwasher to avoid discoloration. However, it is specially designed for easy and instant cleaning. You can detach all parts and clean them with a kitchen dishwasher.
Pros
Equipped with German technology
Automated features
Compact machine for a small family
Easy operation
Dishwasher safe parts.
Cons
Comparatively small carafe
Very little warming time.
5. Cuisinart DGB-1 Single Cup Grind & Brew Coffeemaker
Key Features:
Automatic blade grinder
Grinds and Brews up to 16oz at a time
Grind-off feature
Gold-Tone fine mesh filter
Removable drip tray
Cuisinart is a renowned name in the kitchen appliance industry. The company manufactures coffee makers for both commercial and home users. Cuisinart has many high-end and fully-automated coffee makers in the market. But, they also produce compact coffee machines.
Cuisinart DGB-1 is one of them for minimalist users. It is not fully automated. But, this Cuisinart single cup grind and brew coffee maker comes with many convenient features.
It has a very simple controlling system to make users' lives simple. Cuisinart DGB-1 has only 2 buttons to operate the entire machine.
All you have to do is add beans and water and finally press the Grind & Brew button. Thus, you will get fresh and aromatic coffee within a short time. You can also brew pre-ground in this machine. But, you will need to activate the Grind-off feature in that case.
This single cup coffee maker grinder has a built-in stainless steel blade. The blade crushes coffee beans when you put them in the grinding chamber. After grinding, the machine automatically allots ground coffee immediately into the filter basket.
Cuisinart DGB-1 can grind and brew up to 16 ounces of coffee every single time. This single cup coffee grinder's liquid capacity is fairly low compared to other items on our list. However, it can be an excellent coffee machine for couples or people who live alone.
If you are used to the self-cleaning coffee machine, it can be a troublesome device for you. It has no self-cleaning feature.
But, the good side is; all of its parts are removable. Moreover, all parts are dishwasher safe. So, you can detach all of them and start cleaning.
Though it is a one cup coffee grinder with a tiny size, it looks very stylish. This machine's compact 9.9×10×16 inches dimension has made it adjustable anywhere in the kitchen.
Pros
Very easy operation
Convenient grind and brew features
Compatible with whole beans and pre-ground
Excellent for minimalists
Dishwasher safe
Cons
Blade grinder
Not recommended for more than two users
6. Cuisinart DGB-800 Fully Automatic Burr Grind & Brew
Key Features:
24-hour fully programmable
Automatic burr grinder
12 cup carafe
Adjustable auto-shutoff – 0-4 hours
Brew Pause™ feature
Cuisinart is a North American electronic brand. They manufacture excellent coffee machines for advanced users. This Cuisinart grind and brew single cup coffee maker is one of them with fully automated options.
We have included the DGB-800BC in our list due to its convenient features. It is an automatic coffee maker with grinder providing 24-hour programmable coffee making. The automated program will help you to set accurate times for brewing and make a wake-up coffee in the morning.
A burr grinder coffee maker has plenty of advantages over a blade grinder. Its built-in burr grinder automatically crushes coffee beans just before brewing. So, you will never miss the freshness of the coffee.
This Cuisinart grind and brew single serve coffee maker has excellent bean crushing control. It allows you to grind the exact amount of beans needed to brew. So, you can predict the number of cups before brewing.
In the case of pre-ground, you have to press the Grind-off button. It commands the machine not to grind beans. Moreover, if you are fond of a particular brewing strength, its Strength selector option will help you a lot.
One of the unique things about this coffee machine is its 8-ounce bean hopper. Besides, a carafe with 12 cups liquid capacity comes with the entire set. So, you can enjoy fresh and delicious coffee with your friends.
The machine has two separate filters. Its Gold tone commercial fine mesh filter prevents all coffee debris. Besides, the charcoal filter prevents all harmful chemicals and minerals. Thus, the machine ensures the excellent taste of coffee.
You can stop the machine while brewing with its Brew-pause function. It is a handy feature to pour your coffee during brewing. Moreover, the Auto-shutoff option saves electricity. You can set the function's duration from 0 to 4 hours.
It is made of BPA-free materials. So, you can have healthy coffee for an entire lifetime. Additionally, the 9.75×12.95×17.85 inches dimension fits on most kitchen counters.
We have included the DGB-800BC in our best single cup coffee maker with grinder list due to its super convenient features.
Things to Consider before Buying a Single Cup Coffee Maker with Grinder
Before buying a single-serve grind and brew machine, you need to notice the following points.
Program and Features
Automated programs are essential features of modern coffee machines. For example, some of the single coffee maker with grinder is fully automated with 24 hours programs.
You need to set a time, and the machine will automatically brew your coffee when you need it. It also can replace your alarm clock by providing a wake-up coffee with an audio tone.
Some coffee machines are semi-automatic. However, they also have plenty of convenient features. If you lead a very busy life, 24-hours programmable machines are suitable for you. But, they are costlier compared to semi-automated machines.
Grinding Mechanism
Single-cup coffee maker plus grinder are available with both blade and burr. A blade grinder is similar to a regular kitchen blender. In contrast, a burr crusher works differently. The burr can be conical and flat.
Blade grinders often break coffee beans instead of crushing them. As a result, you may not get accurate ground all the time. However, burr crushes beans very precisely and makes accurate ground all the time.
Capacity and Carafe
A single cup grind and brew machine can extract from 2 to 12 cups of coffee at a time. You must choose one depending on the number of cups you need.
Besides, you will find both regular and thermal carafes. If you need to keep your coffee warm longer, you should go for a thermal one.
Brewing Options
Many single-cup coffee grinder and brewer has a built-in strength selector. You can control the flavor and richness of coffee using this option.
Brew and Pause is another feature included in many a coffee grinder maker combo. It allows you to stop and pour your coffee instantly during the brewing process.
You need to choose the right machine based on brewing features that you truly need.
Maintenance and Cleaning
You can disassemble all the parts of a one-cup coffee maker with a grinder. So, cleaning should not be a big hassle for most users. But, you need to confirm whether the machine is dishwasher safe.
If it is not, you may experience discoloration after a few washes. Besides, avoid a coffee machine with very complex maintenance.
Advantages of Single Cup Coffee Makers with Grinder
Single-cup coffee makers with grinders can provide you with the following advantages:
It will always provide the freshest taste of coffee.
You don't have to find additional space to place two different devices.
It makes the grinding and brewing process faster and easier.
A built-in grinder is always cheaper comparing two separate coffee appliances.
It is easier to get multiple types of ground from a single machine.
You can use multiple brewing options to get the exact flavor.
Single-cup coffee makers are easier to operate than commercial coffee makers.
Disadvantages of Single Cup Coffee Makers with Grinder
Users of coffee makers with built-in grinders often face some problems like the following:
A coffee grinder brewer combo is heavier than traditional coffee makers.
You will face difficulties in the case of breaking a single part of it.
Cleaning can be very complex if you don't know the dissembling.
You cannot use it for commercial purposes due to its single-cup functions.
Questions May Pop up in Your Mind:
What Are The Different Types Of Grinders In Single Cup Grind & Brew Coffee Makers?
There are two types of grinders in single cup grind & brew coffeemaker, including blade and burr grinders. A blade grinder is a similar device to a regular kitchen blender. Burr grinders can be both conical and flat.
What is the Best Single-Serve Coffee Maker Grinder Combo?
According to our editors' choice, the Breville BDC650BSS is the best single cup coffee maker grinder combo on the list.
Is it Better to Have a Separate Coffee Grinder?
It is always better to buy a combination of coffee maker and brewer. But, buying them separately also has some advantages. Besides, you can clean a separate coffee grinder effortlessly.
Conclusion
Have you gone through our best single cup coffee maker with grinder list? If yes, then you have already found a suitable one among them. A single cup coffee maker-grinder combo is an excellent device in many aspects. You are getting a 2-in-1 facility in a single machine.
It saves your brewing time, electricity consumption, and additional cost. So, we always recommend buying one of them instead of struggling with separate coffee appliances.
REFERENCES:
https://www.ijert.org/research/design-and-developmentof-mini-tea-and-coffee-machine-IJERTV5IS030719.pdf
https://www.sciencedirect.com/topics/engineering/coffee-maker
https://coffee.org/