Coffee drinks like Espresso need an accurate temperature to avoid overheating and achieve the perfect taste. The only way to know the temperature of your coffee or frothing milk is to sink a beverage thermometer into it.
So, we have listed some items to help you find the Best Coffee Thermometer.
We found that Frienda meets all criteria to become the best digital thermometer for brewing. On the other hand, KT THERMO B-2C is the most convenient analog thermometer on this list.
Want to know more about them? Read the entire post carefully to explore.
Instant Read Thermometers for Milk Frothing, Coffee and Espresso
1. Frienda Coffee Thermometer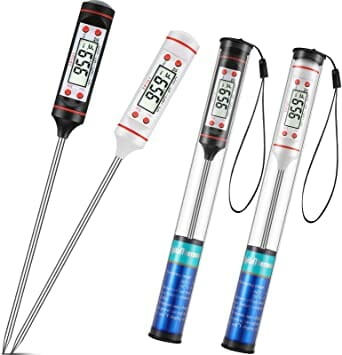 Admirable Features:
Frienda is the best coffee thermometer among our digital items. It has a convenient shape and size for multipurpose uses.
The device has four separate buttons for particular operations. For example, pressing the C/F button will help you convert the temperature mode.
Similarly, you can use the MAX/MIN button to know the highest and lowest temperature of espresso. Moreover, thumbing on the HOLD button will let you know the recorded temperature; even when the probe is out of coffee.
This thermometer has an auto shut-off feature, which means it will be switched off after remaining idle for a few minutes.
The tool can instantly measure the ideal temperature for espresso and coffee. Its digital display has an easy interface. So, anyone can quickly read the temperature at a glance.
Frienda thermometer has a longer probe than traditional devices in the market. It keeps users' hand away from hot coffee and let them measure the drink's temperature safety.
Battery replacement is a big hassle for most digital thermometers. However, Frienda has a battery cover like a bottle cap on its top. Therefore, you can change its battery within a minute.
A beautiful shell with a strap comes with this tool. So, you can easily carry and hang it.
What more we expected:
It would be very useful if the thermometer had a clip to attach the probe with a frothing pitcher.
Positives:
Longer probe
Auto shut-off features
Precise button control
Food-grade materials
Clear Readable display
Negatives:
Its pointy probe can be hurtful.
The body is not very resistant to water.
2. Lavatools PT12 Javelin Digital Instant Thermometer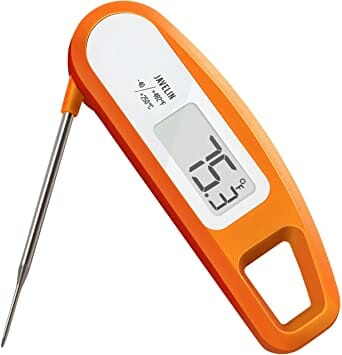 Admirable Features:
The Javelin PT12 is a popular coffee thermometer for its quick response. It accurately shows coffee and latte temperature within 3 to 4 seconds.
PT12's display has a clear interface. So, everyone can read the temperature quickly.
This coffee thermometer has a fame for its long battery life. It works fine up to 4000 hours using a Lithium metal battery.
You can attach this device to the surface of a refrigerator or oven since it has an integrated magnet.
Javelin PT12 is NSF certified, which means it is made of food-safe materials. The manufacturer has used impact-resistant polymers to make this beautiful kit.
Moreover, its splash-proof construction protects the thermometer from liquids. Due to the built quality, it can be used for commercial and professional purposes.
What more we expected:
A big drawback of this excellent tool is its short probe. The manufacturer should have made it longer since it is a major feature for a frothing thermometer.
Positives:
Fast temperature tracking
Food grade materials
Clear and readable display
Easier storage
Long battery life
Negatives:
No backlit display
Its probe is shorter than other coffee thermometers.
3. Rhinoware Digital Thermometer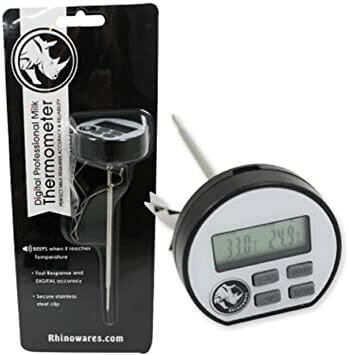 Admirable Features:
Rhinoware RWTHERD has a similar shape to traditional analog milk frothing thermometers.
One of the unique things about this thermometer is its extensive range of temperatures. It shows temperatures from -58 to 482° Fahrenheit or from 50 to 250° Celsius. So, the device is also convenient for professional use.
It has an audible alarm that beeps when the thermometer detects your desired temperature. So, many users believe that it is the best espresso thermometer on the market.
The RWTHERDS has 4 buttons including a dedicated power button. Its C/F S button helps quickly convert and select a preferred temperature. Moreover, you can scroll on the display using its 2 up and down buttons.
Its probe is made of food-grade stainless steel. Moreover, you will get a clip with it to set and adjust the thermometer's height in a frothing pitcher.
You can remove the clip at any time and also use it for other cooking.
What more we expected:
Its body and display could be fully waterproof. Besides, the manufacturer should have focused on its tiny display.
Positives:
Temperature alarm
Button control
Longer probe
Adjustable clip
Convenient size
Negatives:
Smaller display
Its body is not waterproof.
Read More: Different Types of WDT Distribution Tools
Analog/Mechanical Coffee Thermometers
4. KT THERMO 2-Inch Dial Thermometer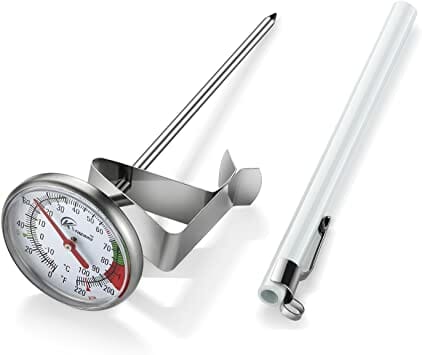 Admirable Features:
The KT THERMO B-2C is the best coffee thermometer among our analog items. Many users prefer mechanical thermometers like this since they last longer than digitals.
It has a large and clear dial. So, everyone can easily read the accurate temperature of the coffee. The dial has three different colors to separate the range of heat. Those three colors warn users about overheated coffee.
You can read the coffee and espresso milk temperature in both Fahrenheit and Celsius. So, most users can easily operate this device.
The thermometer can count from -20° to 110° Celsius. Therefore, you can use it for cold beverages too.
A big advantage of this mechanical thermometer is that it doesn't require a battery to perform. The thermometer has a height-adjustable clip. This is an essential accessory for a coffee thermometer while checking the milk frothing temperature.
Its probe is water and oil-resistant. So, you can measure the temperature of any food along with coffee.
What more we expected:
The thermometer has a fogging issue on its dial. So, the manufacturer should have used a fog-resistant glass on the dial. Moreover, the thermal sensor could be faster.
Positives:
Easy-to-read dial
Mechanical
Liquid resistant
Pitcher clip
Long-lasting material.
Negatives:
Not as accurate as digital thermometers
It tracks temperature slowly.
5. KT THERMO Instant Read 1-Inch Dial Thermometer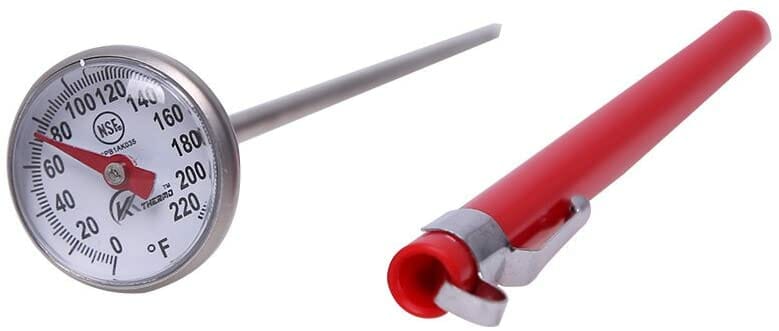 Admirable Features:
The KT THERMO B-1E is another high-quality thermometer to check the ideal espresso temperature. It has a 1-inch dial with numbers that are very clear and readable.
B-1E is a mechanical thermometer with no battery requirement. This model provides a long-lasting performance than most other digital thermometers.
It has a long probe for checking coffee and steamed milk temperature. Moreover, a pen alike plastic sleeve comes with it to measure the temperature safely.
The probe is made of food-safe high-end stainless steel. So, there is no risk of rust and corrosion. The manufacturing material also ensures its endurance longer than other plastic-made thermometers.
What more we expected:
The manufacturer could use a fog-resistant glass on the dial to prevent the fogging issue. Moreover, they should have used more enduring glass on the dial.
Positives:
Clear and readable dial
Longer probe
Food-safe materials
Safety accessories
Easy to use and clean
Negatives:
The dial's glass is fragile
It measures the temperature slowly.
6. CDN Insta-Read Beverage and Frothing Thermometer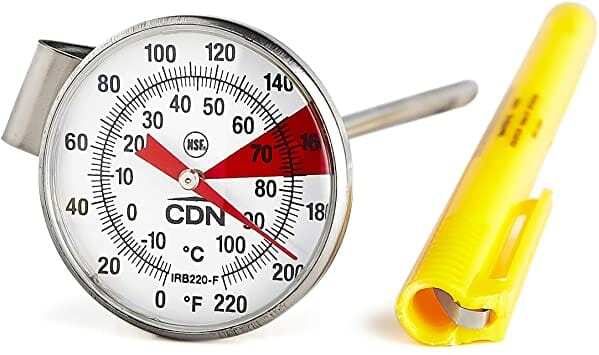 Admirable Features:
The CDB Insta-Read IRB220-F is one of the great espresso thermometers on this list. It has an excellent dial with clear numbers to show the temperature.
The dial also has a red mark to alert users while crossing the average temperature limit. Additionally, the thermometer shows a wide range of temperatures from 0 to 220° Fahrenheit. You can also read the temperature in Celsius.
It is a mechanical thermometer. So, you never have to replace its battery. Both a plastic sleeve and a clip come with this thermometer for checking the temperature of espresso safely.
You can attach this device with a small frothing pitcher using its clip. Otherwise, you can also use the sleeve to measure temperature in a hanging position.
Its probe and clip are made of stainless steel. So, it is safe to use in coffee since the material doesn't grow rust.
What more we expected:
The response time of this frothing thermometer could be better.
Positives:
Mechanical
Clear and readable dial
Safety accessories
Longer probe
Easy to use and clean
Negatives:
Slower response time
The product's finishing is below standard.
7. Norpro 5981 Espresso Thermometer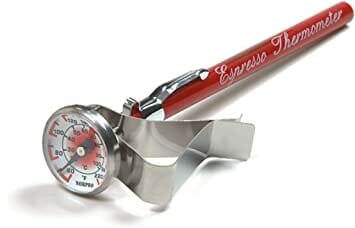 Admirable Features:
Norpro 5981 is a simple coffee milk thermometer to measure a drink's temperature easily. Its dial has several red shades to read the optimal temperature for espresso.
It has a clip so that you can attach the thermometer with a pitcher. The clip allows height adjustment in a frothing pitcher.
The device has a plastic sleeve for convenient storage. It also has a pocket clip. So you can easily carry it or use it safely while checking the temperature.
It is a mechanical milk thermometer that requires no battery. So, it will provide a long-lasting performance without any hassle.
Its probe is made of stainless steel which is a certified food-safe material for kitchen items.
What more we expected:
Its dial could have a clearer interface. Besides, the manufacturer should have fixed its slower response.
Positives:
Mechanical
Clip with height adjustment
Food grade materials
Long-lasting
Storage sleeve
Negatives:
Too many scribbles on the dial
It is slower than digital thermometers.
Digital vs. Analog thermometer for coffee
| | | |
| --- | --- | --- |
| | Analog Thermometer | Digital Thermometer |
| Interface | It shows the temperature on a dial. | It shows the temperature on a digital display. |
| Accuracy | It is less accurate than a digital thermometer. | It can track and show temperature accurately. |
| Technology | It works based on a thermal sensor.  | It works based on a Resistance Temperature Detectors. |
| Speed | It works slower. | It works faster.  |
| Power supply | It requires no battery. | It needs a battery to perform. |
| Durability | Extremely durable. | Less durable since its chip can be damaged anytime. |
Final Words
Whether it is digital or analog, any liquid temperature detector can be the best coffee thermometer based on its performance.
Both types of coffee thermometers have their advantages. A digital coffee thermometer is faster and more accurate. On the other hand, a traditional mechanical thermometer provides longevity with low maintenance.
The primary intention of choosing a coffee thermometer is to measure the temperature of the coffee and frothing milk. So, your focus should be on its longer probe so that it can touch the liquid in a frothing pitcher effortlessly.
References:
https://www.reddit.com/r/Coffee/comments/24d0as/for_the_love_of_god_get_a_thermometer/