Coffee spattering during Espresso extraction is a regular peril for many. It might happen for numerous reasons. But, clustered ground coffee is a common culprit that causes this incident.
Using a WDT tool can be very useful to avoid such extraction issues. However, which one is the best WDT Tool?
Our Top Recommendation
1. Normcore WDT Distribution Tool – Best Overall
2. FusedLine WDT Tool – Best Quality
3. Pavant Coffee WTD Tool – Best Wooden Handle and Stand
4. MATOW Espresso Stirring Distribution – Best Budget
There are a large variety of WDT tools that may complicate your buying decision. So, we have enlisted some decent WDT tools to prevent this difficulty. Let's explore them.

Is the Weiss Distribution Tool necessary?
Making a perfect Espresso shot is not a joke! It is an ancient art that takes hours of practice to master. However, a barista with advanced skills can create a mouth-watering taste in each Espresso shot.
The WDT is one of the techniques in making Espresso that a few of us have heard. Using a WDT tool before making Espresso is not mandatory. But, it assists in better and flawless extraction.
A perfect Espresso requires fine ground without coarseness. In that case, a WDT tool helps to restore and correct ground coffee faults caused during grinding.
So, it goes without saying that the WDT tool is a secret weapon for making delicious Espresso.
8 Best Weiss Distribution Tools 2023
1. MATOW Espresso Coffee Stirrer WDT Tool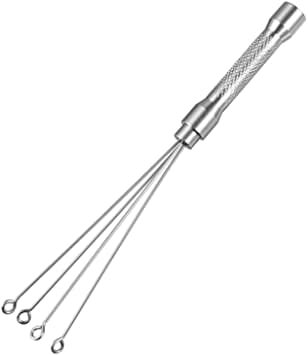 The Matow WDT tool is a durable stirrer with a simple appearance. It is suitable for both professional and personal use.
You will be surprised since applying this tool improves the quality of Espresso dramatically. It breaks up any lump in the coffee ground and prevents over or under extraction.
The edges of this Espresso needle distributor have tiny circles. So, you can stir coffee ground thoroughly without scratching the portafilter.
Though this tool looks frail and fragile, in reality, it is a heavy-duty kit. It is made of 304 stainless steel. The manufacturing metal is well known for its rust-proof, nonstick, and unbreakable characteristics.
Moreover, you never have to worry about bending its needles. Because of this uniqueness, it is widely popular among Baristas.
The stirrer has a user-friendly thick handle with a knurling surface. So, you will have a tight grip and better control.
If you are looking for a gift idea for an Espresso machine owner, this one is a great pick.
Pros
Basic and user-friendly design.
Circles at the bottom.
No needle bending.
High-quality material.
Cons
No self-aligning stand included.
2. Pavant Espresso Coffee Stirrer Wdt Tool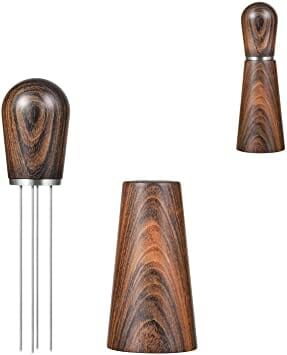 Modern coffee tools are mostly made of stainless steel and thermosetting resins. However, there is a noticeable presence of woodworks on ancient coffee tools.
If you want to have a traditional touch while preparing Espresso, the Pavant Espresso Coffee Stirrer WDT tool is a good option.
This stirrer has a highly polished natural wooden handle that feels comfortable and elite. The handle of this wooden WDT tool is crafted with red Rosewood for beautification and durability.
Besides, 304 stainless steel has been used to make the 4 fine needles for heavy-duty. You will fall in love with the combination of its premium feel and quality.
A larger WDT tool can make stirring troublesome. Considering this issue, the manufacturer has made it 4.9 inches tall to use in any portafilter, irrespective of its size.
This stirrer comes with a self-aligning stand to keep the needles safe. The stand is also made of red Rosewood. As a result, the handle and the stand combinedly make an excellent piece of craftsmanship.
Pros
Comfortable wooden handle
Includes self-aligning stand
High-quality material
Heavy-duty needles.
Cons
Sharp edges can scratch the portafilter.
3. FusedLine WDT Tool and Self-Aligning Stand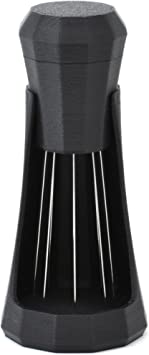 Traditional stirrers usually come with 4 needles. These pins are fixed with wooden or thermosetting resins handles. So, you get no customization facility.
However, the FusedLine WDT tool allows excellent personalization. This ultra WDT tool offers 10 separate pins and one twist-off cap with 13 slots. You can take the number of pins according to your necessity and place them in a suitable pattern. Moreover, you can buy additional pins for this stirrer.
The diameter of each pin is 0.4 mm. They smoothly go through the coffee ground and break up clumps.
FusedLine offers a self-aligning stand with a weighted base for the tool. So, the set remains stable on flat surfaces.
According to the manufacturer, the pins of the stirrer are 3D printed. They have used stainless steel as the manufacturing material. However, they have recommended cleaning its pins with lukewarm water in the user manual.
The entire set looks very attractive and stylish. So, it can be a perfect gift for an Espresso lover.
Pros
3D printed pins with accurate dimensions
Fully customizable
Simple cleaning and maintenance
Included self-aligning stand weighted base.
Cons
Its sharp edges can scratch the portafilter.
4. Apexstone 58mm Coffee Distributor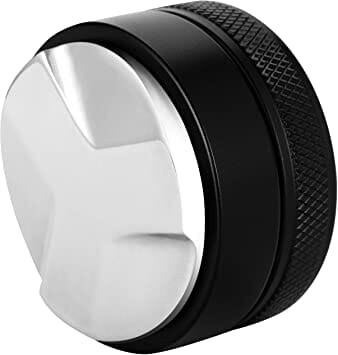 WDT tools are available in different forms and shapes. Many Espresso lovers prefer using coffee ground distributors over stirrers. So, let's get introduced to one of them.
The Apexstone 58mm Coffee Distributor has a suitable diameter that is compatible with most portafilters. Besides, it allows you to adjust its height using a screw mechanism.
This ground distributor comes with a default height adjustment ring. So, you need no additional grub screws and Allen keys to adjust its height.
The tool is designed to distribute hand pressure equally. Its wide and flat surface also covers a large area of the portafilter that fits a coffee distribution tool 58mm.
You can use your fingers and palm to hold and press it on the ground. The shape of this distributor is very comfortable to use. It lets you keep your arm at a 90-degree position while tamping the ground.
Apexstone has used Anti-rust materials to manufacture this item. Its base is made of durable 304 stainless steel. Besides, they have used anti-slip aluminum alloy to make the handle effective for hand use.
Pros
Compact size
Anti-rust tool
High-quality material
It performs better than tamping.
Cons
The height adjustment ring can get jammed.
5. GURUDAR 58mm Coffee Distributor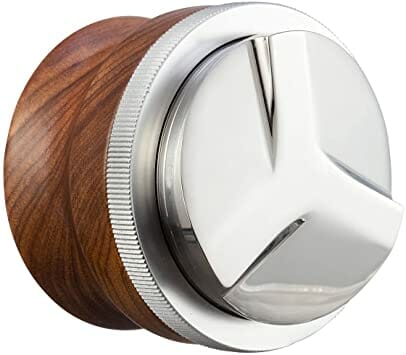 The GURUDAR 58mm coffee distributor is a high-quality WDT tool for home and professional use. It will provide you with a modern mechanism with traditional touch.
Its base is made of 18/8 stainless steel. The metal has anti-rust and anti-corrosion characteristics. Moreover, the base comes with a tri-angled slop to redistribute coffee ground efficiently.
To cover a larger surface, the base of this 58mm WDT tool has a perfect diameter. Besides, you can adjust the base's depth using a simple screw mechanism. This feature is very effective for different doses of ground and sizes of portafilters.
The depth adjustment requires no additional key. Instead, it has an aluminum alloy circle that needs to rotate for height adjustment.
GURUDAR has used walnut wood to make its ergonomic handle. The wood is strong and long-lasting. Moreover, the handle's shape is very comfortable to provide you with a sturdy grip.
This WDT tool has an excellent appearance. Users must confess the premium feel of this best coffee distributor tool. So, you can buy one as a gift for your Espresso lover friend for occasions like Christmas, birthday and wedding.
Pros
High-quality material
Simple height adjustment
Comfortable handle
Perfect gift for Espresso machine owners.
Cons
The wooden handle is not dishwasher safe.
6. F FINEC Espresso Coffee Stirrer WDT Tool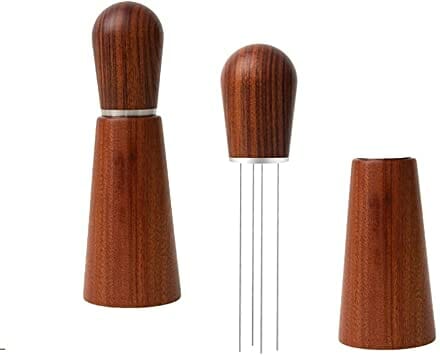 The F FINEC Espresso Coffee Stirrer is another WDT tool with a wooden handle and self-aligning stand on the list. Along with traditional style and craftsmanship, it improves each Espresso shot's quality.
Its 4 fine needles smoothly go through the coffee ground in the portafilter. Thus, it breaks clusters and makes the ground finer for a creamy Espresso extraction.
The manufacturer has used food-grade anticorrosion stainless steel to make the needles. Due to its rust-proof attribute, it does not bother the Espresso quality.
However, the circular arc design is the uniqueness of its needles. Its smooth edges let you stir the ground without scratching the portafilter and hurting your hands.
The wooden handle comes with a thick and ergonomic design. So, it provides you more control in mixing coffee ground without slipping from your hands.
The F FINEC Espresso coffee WDT tool is available with both Rosewood and wooden walnut structures.
If you prefer a beautiful handle and stand, pick the Rosewood model. Besides, the walnut model will be extremely durable. Due to its excellent craftsmanship, this best WDT tool is an ideal gift item for any Espresso lover.
Pros
Smooth polishing
Durable wooden stand
Excellent craftmanship
Anticorrosion needles.
Cons
The handle is not dishwasher safe.
7. SSOCCI 51mm Premium Coffee Distributor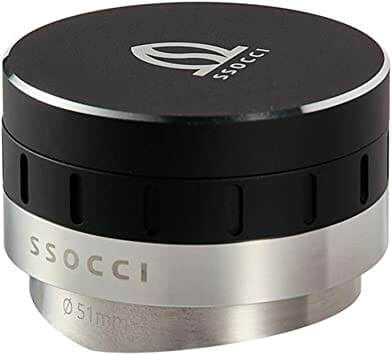 If you are a barista, you will better understand your WDT's requirements. SSOCCI is a company that understands the exact thing because baristas created it.
This luxury brand manufactures premium quality coffee accessories. They produce three different sizes of coffee distributors, including 51mm, 53mm, and 58.3mm.
So, you need to measure the diameter of your portafilter and the distributor's base before buying. Otherwise, it will not fit your portafilter.
SSOCCI has used sandblast aluminum to make its handle. So, it provides a glossy appearance and excellent grip. The ring of the distributor is made of wear-resistant stainless steel to reduce the risk of strain injury.
You can quickly adjust the base's height up to 11mm using a simple screw mechanism. It needs no guesswork because of the included height scale.
The base is made of 316 stainless steel which is durable in extreme situations, even in seawater.
Unlike other distributors, its base is v-shaped. So, it requires less rotation than other distributors. Moreover, it pushes ground to both sides to prevent channeling.
The base is wrapped with a scratch-resistant matte to keep the glossy appearance forever. So, it is the best coffee distributor according to many baristas.
Pros
Made by coffee professionals
Luxurious and comfortable
Convenient design
Heavy-duty manufacturing material
Cons
Expensive than other distributors.
8. SANTOW Espresso Coffee Stirrer WDT Tool

The SANTOW Espresso Coffee Stirrer WDT Tool will suit users who prefer a plain design with a wooden handle. Its user-friendly structure allows you to distribute coffee ground properly in the filter basket.
This WDT tool comes with 4 different types of polished handles made of natural woods. So, it provides you great flexibility in the handle selection. You can choose between the Huanghuali-Rosewood and Rosewood handle during purchase.
Each handle has an ergonomic design. So, you can hold them firmly and rotate comfortably.
This stirrer has stainless steel connection cap to hold its needles tightly. Besides, the needles are made of 304 stainless steel for ensuring durability and safety. They will never get bent while stirring.
Moreover, you can easily clean the tool due to its rust-proof manufacturing material.
The edges of its needles have a circle bottom. So, it doesn't hurt your hands or scratch the portafilter.
Its size is suitable for use at home and in coffee shops. You can use it in any portafilter because of its suitable length.
Pros
Variety of handles
Traditional wooden tool
Heavy-duty manufacturing materials
It prevents scratching.
Cons
It has only 3 needles where 4 are standard.
What Does the WDT Tool Stand For?
Weiss Distribution Technique also known as WDT, is a coffee ground spreading method before making Espresso. A WDT tool is an Espresso distribution tool that is designed for the exact purpose.
The tool has two major parts, including a handle and needles or a base. Baristas use the device to stir ground coffee into the portafilter.
It helps you sit the ground coffee well in the portafilter and split up any agglomerate in the coffee puck.
How to Correctly Perform The Weiss Distribution Technique (Video)
Questions May Pop-up in Your Mind
How do I use the WDT tool?
Put your favorite coffee ground in a portafilter. If you have a stirrer, move its needles through the ground to break coffee clusters. In the case of a distributor, adjust the base height first. Then place the base on the coffee ground in the portafilter and rotate it a few times. Finally, flatten your ground with a tamper.
Does WDT make a difference?
Yes, it does. Clumps in the coffee ground may lead to bad Espresso extractions. An Espresso distribution tool smashes those to ensure a smooth Espresso pour.
How does a coffee distributor work?
During the rotation into a portafilter, a distributor crushes coffee grounds and diminishes channels in the puck. Besides, it allows coffee ground in the portafilter equally for an uninterrupted water flow during the extraction.
Do you really need a coffee distributor?
WDT is not a mandatory step to brew Espresso. But, it ensures the highest quality Espresso extraction. So, you should use Espresso distributors for better Espresso.
Final words
It is needless to say that using a WDT tool will make your Espresso extraction unbroken. Our best WDT tool list contains a variety of devices including both stirrer and distributor.
A stirrer will be suitable for those who prefer a swift ground allocation. On the other hand, a distributor will be very helpful if you often struggle with coffee ground channeling.