Crossland CC1 and Rancilio Silvia are two popular Espresso machines in the market. But, the gap between their launching times is 21 years! Crossland CC1 is a new generation Espresso machine equipped with high technologies.
However, the basic features of both products are similar. So, who will win the Crossland CC1 vs. Rancilio Silvia debate?
We found that Rancilio Silvia is superior for brewing, durability, and frothing quality. It also has a consumer-friendly design and simple operation that most users prefer.
Read the entire post and explore more information about these two products.
Rancilio Silvia vs. Crossland CC1 V2: Comparison Chart
Before going to the comparison, we need to tell you about the affinity of these two Espresso machines. Many technical features of them are much alike, including the boiler type, water tank capacity, weight, manufacturing materials, etc.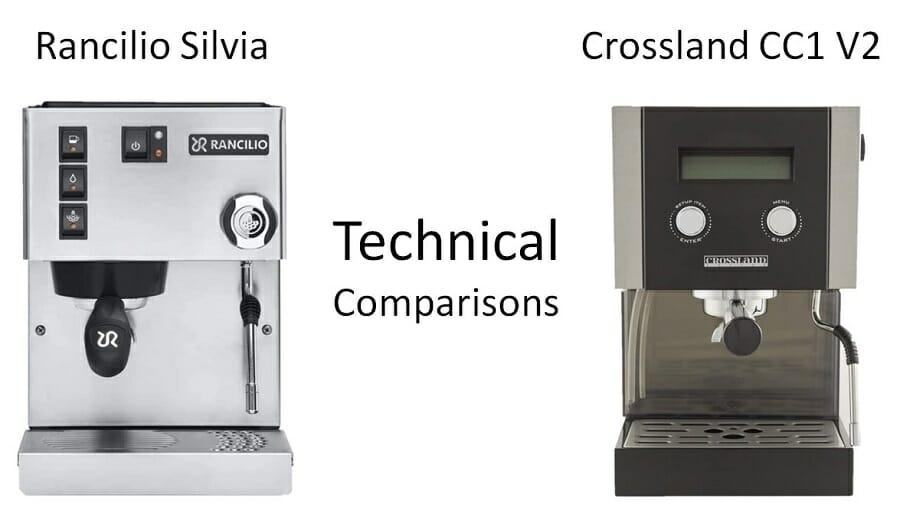 So, a comparison between lookalike features will not be fruitful. We are only mentioning the dissimilarities between them in this comparison chart.
| | | |
| --- | --- | --- |
| | Rancilio Silvia | Crossland CC1 |
| Manufacturer | The Silvia is built by Rancilio, an Italian Espresso machine manufacturer. | The Crossland CC1 is made by the American manufacturer, Crossland Coffee. |
| Release date | The first version of Rancilio Silvia was introduced in 1997, though the date is not specified.  | Crossland CC1 became available in the market on May 24, 2018, for the first time. |
| Machine Type | It is a classic electric Espresso machine. | It is an electric digital hybrid Espresso machine. |
| Operation | The interface has four buttons and one tap for separate operations.  | The interface has two regulators for different operations.  |
| Brewing timer | Rancilio Silvia has no timer.  Users have to start and stop the brewing by pressing the coffee switch. | Crossland CC1 has an integrated shot timer to precisely control the brewing time. |
| Programming | It is a classic Espresso machine with no programming feature. | It is a semi-automated Espresso machine with 3 programmable menu selections and pre-infusion. |
| Temperature control | Users need to depend on temperature surfing. But, you can add a PID device to this machine. | The machine comes with a built-in digital display for accurate temperature control. |
| Dimension | 11.4 x 9.3 x 13.4 inch. | 16 x 13 x 10 inch. |
| Power supply | 1000 watts. | 1150 watts. |
| Skill required | Users need no additional skill to operate this machine. | It is a good option for users with intermediate skills. |
Company background
Rancilio Group:
Rancilio is an Italian espresso machine manufacturer. It was founded in 1927 in Parabiago, Italy, by Roberto Rancilio. The company has about a hundred years of industrial experience manufacturing Espresso machines.
The brand is popular for manufacturing advanced consumer-grade Espresso machines, though it also manufactures commercial-grade appliances.
Rancilio sells its products worldwide, particularly because they have a big market in North America.
Crossland Coffee:
Crossland is an American coffee machine manufacturer. It was formed in 2010 in Seattle, Washington, United States.
The company is fairly new in the Espresso machine industry. But, the brand manufactures and offers high-tech Espresso machines at decent prices.
According to its website, the brand is currently offering only a single Espresso machine model called Crossland CC1.
The uniqueness of this company is it makes compact Espresso machines with impressive features.
Award and Recognition
Rancilio:
Rancilio is constantly developing and adding new items to its product line. It is a widely famous brand for developing durable machines and user-friendly designs.
Last year, Rancilio won the iF Design Award 2021 in the Product category. Rancilio's Egro Next Touch Automated coffee machine defeats more than 10,000 registered items to win the award.
The record alludes that how serious the company is about the quality of its products' design.
Crossland:
Crossland is a very young company compared to Rancilio. During its 12 years of journey, the company successfully manufactured and marketed a single Espresso machine model only.
Crossland CC1 has been praised by users extensively. But, neither the product nor the company has achieved any award till now.
Crossland CC1 vs. Rancilio Silvia: Product Comparison
Favorable aspects of Rancilio Silvia:
Rancilio Silvia is a single-boiler espresso machine with manual controls. Though the market is full of modern Espresso machines, Silvia is still popular for its excellent functionality.
It is often suggested for beginner baristas. But, never think of this machine as an ordinary Espresso maker. Coffee professionals also prefer Rancilio Silvia for many reasons.
The machine is equipped with all essential features for quality Espresso extractions with excellent flavor.
Rancilio Silvia has a commercial build quality. The company has used industrial stainless steel to ensure its durability. Moreover, its metallic finish has provided it with an elite appearance.
Its compact design and smaller dimension are suitable for a small kitchen. The interface has a few switches for extensive control. That's why experienced users still admire this Espresso machine.
A great feature of this machine is its commercial-grade steam wand. You can produce high-quality steamed milk with a foamy texture for latte art.
Weakness of Rancilio Silvia:
Rancilio Silvia comes with a basic interface with no programmability. The machine also has no dedicated temperature control system.
So, you may need to wait longer for the optimal brewing temperature. For this reason, many users buy an additional PID controller for Rancilio Silvia.
Positive aspects of Crossland CC1:
Crossland CC1 is a semi-automatics single boiler Espresso machine. It is a budget-friendly device with convenient features and programs. So, Crossland CC1 is a good option for making Espresso at home and office.
The machine comes with a built-in PID and pre-infusion. It lets you control the temperature more precisely than Rancilio Silvia. Moreover, you can monitor the brewing time, wait time, and other menus on its digital display.
Its interface has two regulators for easy operation. The machine quickly heats the water boiler. So, you don't have to wait much to pull an Espresso shot.
Crossland CC1 is equipped with modern technologies that an Espresso machine should have. There is no doubt that it will brew outstanding Espresso with mind-blowing flavor.
The machine is made of industrial-grade stainless steel. Due to its smooth metallic finish, it has a beautiful appearance. Though its dimension is larger than Rancilio Silvia's, it is not bulky at all.
Drawbacks of Crossland CC1:
A big drawback of Crossland CC1 is the unavailability of its parts. You may fall in trouble if a part of this machine gets damaged somehow.
Moreover, it produces very basic steamed milk, which can be unsatisfactory for latte and cappuccino enthusiasts.
Frequently Asked Questions
Q. What is the latest version of the Rancilio Silvia?
Rancilio Silvia M V6 is the latest version of this item with some technical updates. It became available in the market in 2020.
Q. Is Rancilio Silvia 58mm?
Yes, the group head of Rancilio Silvia is designed for fitting a 58mm portafilter.
Q. Can you leave Rancilio Silvia On all day?
No coffee or Espresso machine should be left switched on all day. It will consume a lot of electricity gradually. Moreover, it causes overheating, which can lead to a fire incident.
Final words
Though Crossland CC1 has a programming facility and high technology, we still prefer Rancilio Silvia. It has a durable build quality and low maintenance, which is essential for hassle-free use for a long time.
An Espresso machine should produce high-quality steamed milk for creating latte art along with perfect extraction.
Programming surely saves time and ensures precise brewing. But, a classic Espresso machine like Rancilio Silvia is still convenient to pull a perfect Espresso shot with no additional skills.
Reference:
http://www.crosslandcoffee.com/index.php?p=cc1
https://www.ranciliogroup.com/rancilio/silvia/