Hario V60 is a simple dripping tool to make high-quality coffees with a rich aroma. A problem while buying a V60 is its material variations. So, users often want to know – which material of V60 is the best?
According to our analysis, the ceramic drippers come with the best potential among Hario ceramic vs. plastic vs. glass.
In this post, you will find why we prefer Hario ceramic drippers and their advantages.
Hario Ceramic vs. Plastic vs. Glass Dripper: the comparison chart
| | | | |
| --- | --- | --- | --- |
| | Ceramic dripper | Plastic dripper | Glass dripper |
| Thermal mass | High | Low | High |
| Biodegradable  | Yes | No | No |
| Recyclable | No | Yes | Yes |
| Aesthetic appeal | High | Medium | High |
| Durability | Low | High | Low |
| Popularity | 4.5/5 | 3/5 | 4/5 |
What Is the Difference Between Ceramic and Plastic Dripper?
You will find both ceramic and plastic-made drippers in the market. But, what is the difference between ceramic vs. plastic drippers?
Ceramic is a combination of soil-like materials. Its manufacturers mix ingredients like clay, powders, and water to form ceramic objects.
A strength of ceramic drippers is their higher thermal mass characteristic. So, it will take a long time to become hot.
Plastic is produced from natural substances. Materials like coal, unrefined oil, gas, and salt are processed through polymerization or polycondensation methods to make plastics.
A weakness of plastic drippers is their lower thermal mass attribute. As a result, it easily becomes hot, even at a low temperature.
Is Ceramic Dripper Better Than Plastic for the Environment?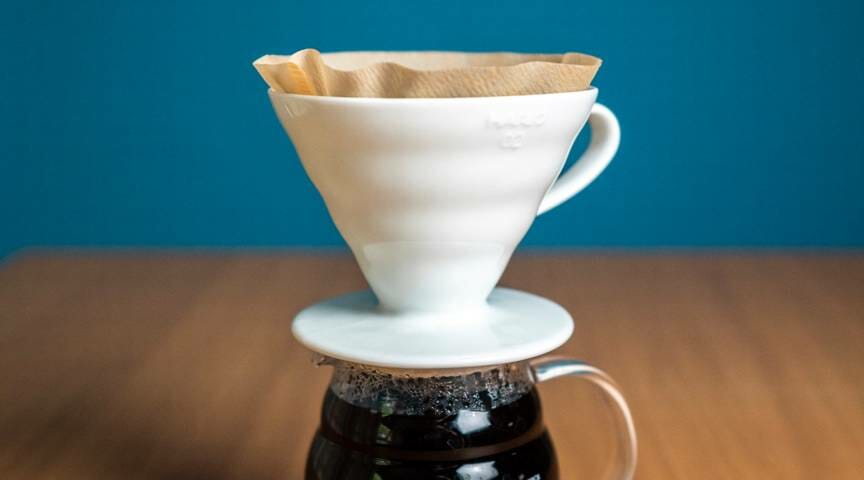 Unlike plastic, ceramic objects are biodegradable. Ceramic breaks down due to its earthly manufacturing materials, though it takes years.
It is also a food-safe item. Since ceramic can tolerate high temperatures for a long time, it does not leach into food like plastic.
Based on these facts, ceramic is more environment-friendly than plastic.
Hario v60 Ceramic vs. Plastic
We have discussed ceramic and plastic just now. Anyway, if you are confused about choosing a ceramic or plastic Hario v60 dripper, read the following carefully.
The first thing you should consider is its heat resistance. In the case of thermal mass, ceramic wins hands down. It can tolerate higher temperatures than plastic and takes more time to be hot.
Secondly, we will talk about durability, where plastic definitely beats ceramic. It can survive multiple falls. So, people who want longevity prefer plastic drippers over ceramic.
Finally, a user needs to consider a dripper's look. If you are too obsessed with appearance, ceramic wins here once again.
Hario V60 Ceramic vs. Glass
Glass V60 drippers provide almost the same characteristics as ceramics. It also has a higher thermal mass, a convenient feature for managing the brewing temperature and extraction.
The crystal and transparent appearance of glass drippers are mind-blowing. So, hobbyist users often pick glass drippers instead of other materials.
The only drawback of glass drippers is their fragility. If you have a tendency to slip things through your fingers, it may not be a good option for you.
Which Hario Is the Best?
Hario Ceramic V60 is the best dripper for the majority of users. It carries no risk of growing rust or leachings like metal and plastic drippers.
Ceramic V60 also provides excellent heat resistance. Moreover, most people fall in love with its superior appearance.
What Is So Special about the Hario V60?
Hario is a Japanese company that manufactures manual coffee drippers. The V60 dripper is a flagship product of Hario. You can brew delicious drip coffee with a V60 within a short while.
A special feature of Hario V60 is its precise extraction. This dripper lets you enjoy drip coffee's clean flavor and aroma, even the complicated notes.
The satisfaction of Hario V60 users is endless since they can brew the finest coffee without advanced brewing skills.
What Is the Difference between Hario V60 01 and 02?
Hario V60 01 and 02 indicate their brewing size. The V60 03 is also available in the market.
These numbers specify how much drip coffee you can brew at a time with a Hario V60. For example, the 01 will let you brew 300 ml of drip coffee at a time.
You can brew up to 600 ml of coffee with a Hario V60 02 dripper. It is needless to say that the 03 will brew more coffee in a row.
Final words
So, finally the winner from the Hario ceramic vs. plastic vs. glass drippers comparison is the ceramic V60. It is simple to use and maintain. Using this tool, you can brew excellent drip coffees with convenient thermal mass.
Along with performance, the Hario ceramic V60 will draw your attention with its aesthetic appeal. If you want minimalism in brewing delicious coffee, you should find no other alternative to Hario ceramic V60.