Nothing is more annoying than spotting a malfunctioning coffee machine while brewing your wake-up coffee. It can happen due to the poor quality of the coffee maker, or failure of proper maintenance.
No one wants to experience such a case. So, people tend to buy high-performing machines from renowned brands like Cuisinart. But, you may still face some Cuisinart coffee maker problems.
Fortunately, you can fix them at home most of the time after thorough troubleshooting.
We have mentioned some regular Cuisinart coffee maker troubleshooting to fix yours with no worry.
Note: All these troubleshooting are applicable to any models of Cuisinart, including single-serve coffee makers.
Cuisinart single-serve coffee maker troubleshooting
(Descale message)
Some single-serve models of Cuisinart come with dedicated descaling functions. The machine shows a "Descale" message during the descaling process.
However, some Cuisinart single-serving coffee makers keep showing the message even after finishing descale. In that case, the machine will require a quick reset to reach its default setting.
How to fix:
Press the hot water button for 6 seconds. Most of the single-serve models will get to their default settings in this way. If your machine still shows the message, press the hot water and the rinse button together. The second action should solve the problem.
However, if it doesn't work, possibly the machine fails to understand your command. In that case, you can completely switch off and unplug the machine. Then, plugging in and switching on the appliance again should solve this Cuisinart coffee single cup maker problem.
Cuisinart Coffee Maker Won't Turn on
A Cuisinart coffee maker not turning on is one of the common issues experienced by its users. In that case, your machine doesn't switch on when plugged in.
In general, you can face this difficulty for three reasons.
The power cord has an electrical failure.
The circuit board is dead, or
You have a faulty wall socket.
How to fix:
These three problems occur when one of these components is damaged by burning or short-circuit. The burning and short-circuit usually happen due to a defective power supply or contact with water. In that case, you have no choice but to replace the destroyed component.
Cuisinart Coffee Maker on/off Switch Not Working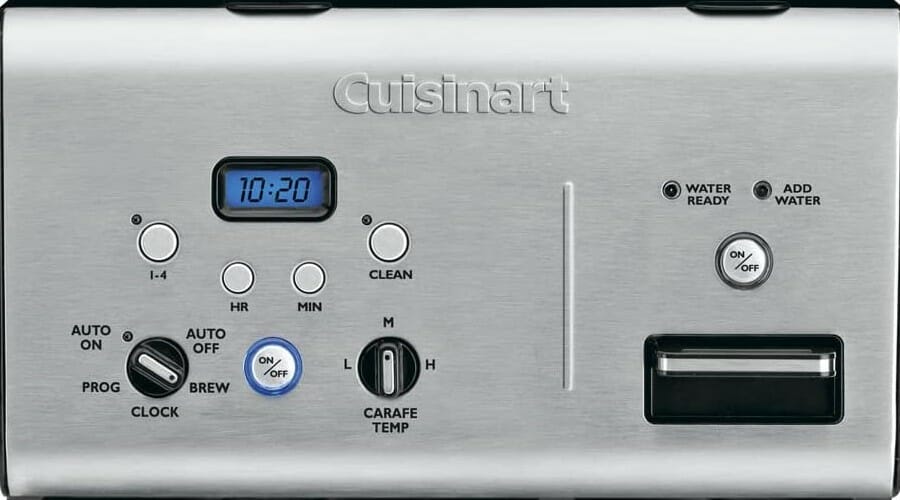 Sometimes, you can experience the power button of your Cuisinart coffee maker not working. It is another electrical circuit problem. The switch is the only way to turn on your machine's pump and heating unit.
So, you cannot brew coffee anymore without fixing the on/off switch.
There are two general reasons behind the on/off switch malfunctioning.
The power button has been stuck.
It has been disconnected from the circuit board.
How to fix:
Luckily, a defective on/off switch will require a simple repair or replacement. You have to change the cracked and stuck switch for a simple fix. But, if you notice the switch disconnected from the circuit board, it will need wiring.
In this case, detach the circuit board from the machine and re-contact the switch's metal with the board. You need to have good knowledge of electrical installation to fix it yourself. Otherwise, get help from a professional.
Cuisinart coffee maker timer not working
Cuisinart manufactures excellent coffee makers with many useful features. The timer is one of them that lets you set a brewing time in advance to prepare your coffee afterward.
However, sometimes the timer doesn't work as usual. It can be frustrating for users who depend on the feature to brew a wakeup coffee.
If the display doesn't show time, there are possibly three reasons behind this problem.
The LCD has been damaged.
There is a problem with the control board.
The program setting is wrong.
How to fix:
It is very tough to identify the accurate fault of a problematic timer. This is because there are many delicate reasons behind it. For example, it can occur simply due to a loose electrical connector. Moreover, you may have this issue because of excessive heat and moisture in the control board.
If the machine's electrical connectors are not secured, you will need to reconnect them properly.
In the case of a damaged LCD, you have to replace it entirely with a new one.
Moreover, a Cuisinart coffee maker reset may require you to fix the timer error due to a programming fault.
Cuisinart coffee maker not brewing
Brewing is the basic function of a coffee machine. But, you may notice that a Cuisinart coffee maker stops brewing at times. It happens suddenly without any prior signal. So, users remain in confusion about the reasons for this issue.
Cleaning is an unavoidable task to maximize your coffee machine's performance. Unfortunately, many users neglect the topic. As a result, they experience various problems, including the not brewing issue.
How to Fix:
Cleaning your machine routinely can prevent issues like this. If you are having a not brewing issue, clean the machine thoroughly.
Fill the reservoir with the recommended amount of water and white vinegar. Now, run the machine in the same way as you would when making coffee.
Some Cuisinart models have a dedicated clean button. If your machine has one, press the button to clean the entire machine.
You need to repeat the cleaning process 2 to 3 times to wipe out the smell of vinegar.
Cuisinart coffee maker stops brewing middle cycle
Your coffee machine had no problem at all. So, you have filled the water reservoir, put ground coffee in the chamber, and switched on the machine for brewing as usual.
However, your Cuisinart coffee maker stopped brewing after a while in mid-cycle. It can indicate negligence to proper care of the coffee machine. In most cases, the mid brewing shut-off is linked to a lack of cleaning.
How to fix:
You should start the fixing by resetting your Cuisinart coffee machine. If it doesn't work, check out the charcoal water filter.
A coffee machine often gets shut off during brewing because of a clogged water filter. You need to replace the filter in that case.
Additionally, descale with white vinegar to remove all debris from the inside of your coffee machine. Along with descaling, remove old ground coffee and clean the grinder blades to re-activate the brewing process.
Cuisinart coffee maker overflowing
Overflowing is a common disturbance for a large number of coffee machine users. It wastes cups of delicious coffee and makes unexpected grimes all around. Moreover, cleaning the mess is very annoying and time-consuming.
A Cuisinart coffee maker overflows because of a few reasons like the ones below.
You have overfilled the basket.
The fine ground coffee has clogged the filter basket.
The valve in the filter basket holder is damaged.
How to fix:
You can simply try not to overfill the basket to avoid overflowing. It should solve the issue in most cases.
But, if the filter basket is clogged frequently due to fine ground coffee, you may need to change the size of the ground.
A damaged valve can also cause overflowing. If you find a faulty valve in the filter basket holder, replace it with a new one.
Cuisinart coffee maker making loud noise
A new coffee machine provides quieter and smooth brewing. But, it starts making loud noise over time. Why does it happen?
A Cuisinart coffee maker making noise points out some blockage inside the machine. After prolonged usage, a coffee machine generates mineral deposits on its surfaces. So, the water flow becomes interrupted and makes noise.
How to fix:
A coffee machine can naturally make some noise while brewing coffee. But, if the noise is abnormal and loud, it signifies that your machine needs descaling.
You should descale your Cuisinart machine using vinegar or commercial descaler to get rid of this issue.
Cuisinart Coffee Maker Auto On Not Working
Automated coffee makers are quite helpful for users. They start brewing coffee according to your set time. However, sometimes the machine may not switch on automatically when needed.
The three most common reasons behind this issue are:
The clock is not set.
The auto-on time is not set.
The program is not working properly.
How to fix:
You can start by setting the clock for this Cuisinart coffee machine troubleshooting. First, press the minute or hour button and check whether the clock starts blinking. You can now press the minute or hour button to set the correct time.
After setting the time, look for the auto-on option. Then, select the option to command the machine accordingly.
If the above process doesn't work, possibly the program is not working correctly. Therefore, the machine will require reprogramming.
Cuisinart coffee maker grinder not working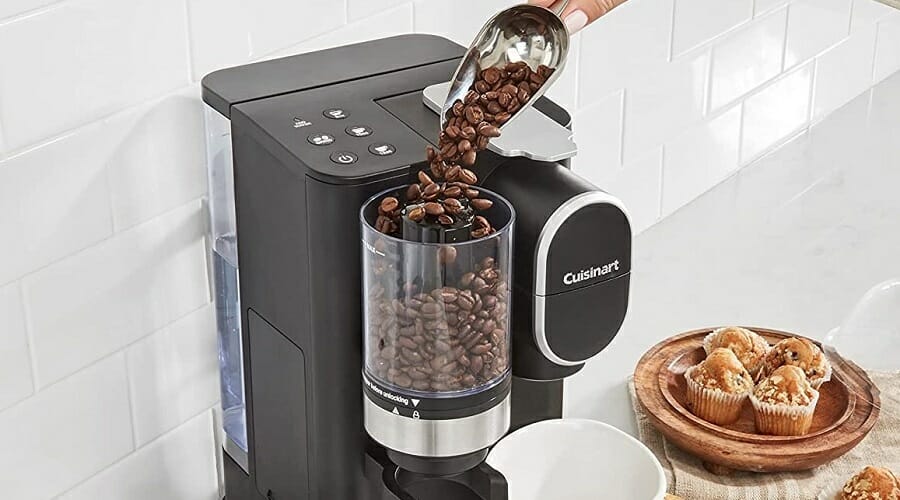 If you see the grinder stopped working suddenly, the possible reason could be the jammed ground under the blade. It can happen for both the burr and blade grinder.
This is one of the common Cuisinart coffee maker issues. After long usage, fine grinds can reach the spinning area and stick to the part.
How to fix:
It will require nothing but cleaning. You have to soak the grinding chamber in hot soapy water for a while. When the grime seems to loosen, scrub the bowl with a small brush.
Sometimes, whole coffee beans are stuck underneath the blade, which stops it from spinning. So, check out the bottom carefully and clean the part too.
Final words
As a coffee lover, you should know the basic Cuisinart coffee maker troubleshooting. You can solve most of them at home without spending a single penny. However, you may need to go to a repair shop for a complex case.
Many coffee machines' troubles are linked to the absence of proper cleaning. So, it is always said that prevention is better than cure. You must clean your machine routinely and check out whether you are using a good power supply.
References:
https://www.ifixit.com/Wiki/Cuisinart_Coffee_Maker_Will_Not_Turn_On
https://www.ifixit.com/Wiki/Cuisinart_DCC-1200_Troubleshooting