We often see and use portafilters with single and double spouts. But, there is another kind of portafilter called bottomless. A bottomless portafilter has no base and spout. It seems like a metal ring with a handle. So, this tool is also called a naked portafilter.
Using a bottomless portafilter provides priceworthy advantages such as having better Crema and observing extraction faults. So, picking out the best bottomless portafilter for your Espresso machine is essential.
Our Top Recommendation
1. MATOW 54mm – Best for Breville Barista Series
2. Rancilio Silvia Bottomless Portafilter – Best Quality
3. Crema 54mm Naked Portafilter – Best 54mm
4. Gaggia Bottomless Portafilter – 58mm
5. TAPBULL Bottomless Portafilter – Best Budget
Let's check out our list of bottomless portafilters below.


Bottomless Portafilters – Comparison Table
| | | | | | |
| --- | --- | --- | --- | --- | --- |
| Brand | Ring diameter | Includedbasket | Head material | Handle material | Dishwasher-safe |
| Tabbull | 54mm | No | Stainless steel | Rosewood | Head only |
| Firjoy | 54mm | No | Stainless steel | ABS | Yes |
| Matow | 54mm | Yes | Stainless steel | Sandalwood | Head and basket only |
| Gaggia | 58mm | Yes | Stainless steel | Thermosetting resins | Yes |
| Gaggia | 58mm | Yes | Food-grade steel | Wood | Head and basket only |
| Rancilio | 58mm | Yes | Stainless steel | Thermosetting resins | Yes |
| Delonghi | 54mm | Yes | Stainless steel | ABS | Yes |
| Seattle | 58mm | Yes | Rustless steel | ABS | Yes |
1. TAPBULL Bottomless Portafilter for Breville Barista Express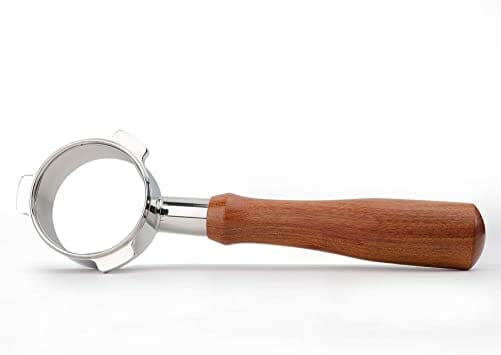 An unusual extraction ruins the perfection of Espresso. This issue can occur due to several reasons. But, how do you know the exact cause?
A bottomless portafilter is a solution that will reveal the culprit.
The TAPBULL is a superior bottomless portafilter that fits many Breville and Sage Barista models. If you are a beginner often experiencing extraction issues, this naked portafilter will help you monitor them in real-time.
Thus, this best bottomless portafilter for Breville lets you understand what the actual problem is.
For providing you with the highest quality Espresso, it is made of food-grade stainless steel. So, you will have no metallic toxins ever. Its Rosewood handle feels comfortable in your fist. Besides, Rosewood is very strong that lasts for years.
You can separate the head and the handle by unscrewing. Its head is dishwasher safe. But, keep the handle away from any cleaning liquid.
You have to buy a ground filter basket separately since it doesn't include one. So, measure both the portafilter and basket for a perfect fit.
Pros
Durable wooden handle
Food grade materials
Dishwasher safe head
Cons
Only usable on specific models.
2. FIRJOY 54mm Bottomless Portafilter for Breville Pro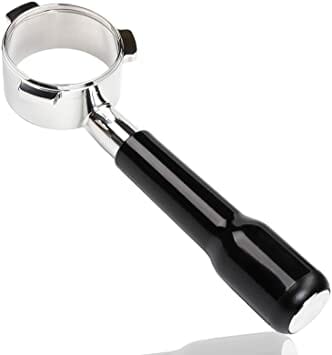 Portafilters with spouts don't allow users to monitor extraction. So, you cannot inspect if bad extraction is occurring from something.
But, a bottomless portafilter like Firjoy lets you identify extraction issues accurately. So, you can easily detect if there is any grinding and tamping difficulty.
This 54mm Breville bottomless portafilter fits some Breville Barista Express and Sage Barista Series.
The manufacturer has used high-quality food-grade stainless steel to make the ring. So, there is no risk of growing rust and mixing them with the coffee puck. Besides, they have used ABS (Acrylonitrile Butadiene Styrene) plastic to build the handle.
ABS features against impact, heat, friction, and chemical reaction. Moreover, they are extremely durable. Unlike wooden handles, ABS arms are dishwasher safe. So, you can clean both the head and handle with cleaning liquids.
You can detach both parts by unscrewing. This item comes with no filter basket. So, measure the dimension of the ring and basket carefully while buying one separately.
Pros
Durable and harmless material
Easy to use
Entirely dishwasher safe
Cons
Leaking is a common issue if you buy it for non-compatible models.
3. MATOW Bottomless Naked Portafilter with 54mm Breville Barista Series


Matow is a popular brand that sells coffee machine accessories. Most of the customers are happy with Matow's products due to their world-class quality and smooth finishing. Because of several reasons, this item is an exceptional product on our best bottomless portafilter list.
It fits with the group head of many Barista Espresso machines. But, you need to check its compatible models while buying. Otherwise, you will experience a loose portafilter.
Since it is a bottomless portafilter, you can see every extraction detail. It is a very practical and easy way to find out extraction faults. So, this outstanding bottomless portafilter for Breville is helpful for both beginners and experts.
Besides, it provides a better output of Crema due to no contact with any metal surface during extraction.
Matow has used food-grade stainless steel to build the head. Its highly polished group head never grows rust and metallic toxins. This product also includes a filter basket made of the same metal.
The head, filter basket, and connection ring of the portafilter are dishwasher safe. So, you can clean them thoroughly after each use.
Its ergonomic handle is made of sandalwood, which is strong and long-lasting. Besides, the handle's shape is comfortable to hold. It is available in five different colors. You can pick a favorite one from among them.
All parts of the portafilter are detachable. So, you can wash every metal part with a dishwasher except the wooden handle.
Pros
Included filter basket
High-quality material
Dishwasher-safe metal parts
Cons
Read More: Weiss Distribution Tools
4. Gaggia Bottomless Naked Portafilter


Italy is the birthplace of Espresso. So, you cannot avoid this place when talking about Espresso. Along with Espresso's origin, the home of many famous coffee machine manufacturers is in Italy.
Gaggia is one of them, founded in 1947 in Milan, Italy. They manufacture high-quality coffee machines and their accessories.
Let's get introduced to the Gaggia bottomless portafilter. This naked portafilter comes with a 3 cup filter basket. So, there is no hassle of finding and buying a separate basket that fits its diameter.
The larger size of the basket lets you tamp and brew up to 21 grams of ground coffee at a time.
Gaggia has used high-quality food-grade stainless steel to make the portafilter's head. It is rust-resistant. So, there is no chance of rust mixing with the coffee puck later. Besides, they have used thermosetting resins to build the heat-resistant handle.
The shape of its grip is rectangular instead of oval.
Before buying this item, check carefully if this portafilter is compatible with your Gaggia machine. It also supports some Kitchen Aid machine's group heads.
So, you need to confirm if this best bottomless portafilter for Gaggia Classic goes with your Espresso machine. Otherwise, it will be totally unusable.
A notable thing about the portafilter is its low price instead of the Gaggia's brand value.
Pros
Included filter basket
3 cup ground capacity
High-quality material
Cons
The rectangular handle can be uncomfortable
5. Gaggia 58mm Bottomless Portafilter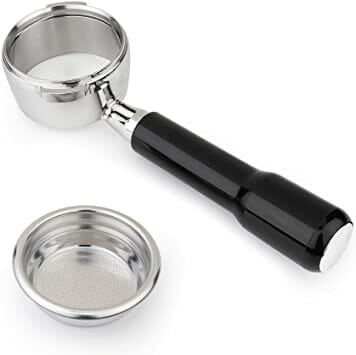 Bottomless portafilters are often considered as a training and troubleshooting tool. But, it can also be an effortless taste enhancer for Espresso.
Naked portafilters have no base and spouts. So, there is no chance of flowing Espresso through a dirty portafilter. Besides, Espresso can directly drop into the cup without any obstruction in the case of bottomless portafilters. A straight extraction creates more Crema on Espresso.
With many benefits like this, Gaggia 58mm is a convenient bottomless portafilter. If you ever experience an extraction problem, it will immediately reveal the issue.
This item includes a 2 cup filter basket. Hence, it reduces the cost and hassle of buying a separate one. Both the filter basket and the ring of this portafilter are made of 304 stainless steel.
It is high-quality food-grade steel that prevents rust and never ruins the quality of Espresso. This bottomless portafilter for Gaggia classic has a solid wooden handle. But it is covered with thick black paint.
So, we are not sure what kind of wood Gaggia has used to make it. However, it feels very comfortable in your hand.
You can separate every part of the portafilter. Therefore, it is easier to clean those parts with a dishwasher except the wooden handle.
This 58mm naked portafilter only fits certain Gaggia Espresso machines. So, be careful and confirm during buying if you have the same machine.
Pros
Included filter basket
first-class material
Dishwasher safe
Cons
Compatible with very limited models
6. Rancilio Silvia Bottomless Portafilter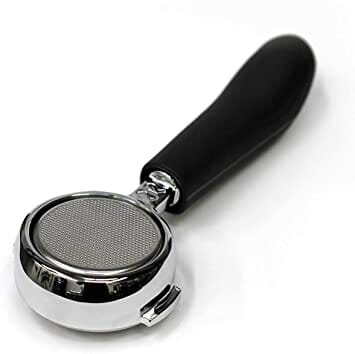 Rancilio is another Italian coffee machine manufacturer. It is an elite brand in the coffee machine industry due to its high-quality production. The company has nearly a hundred years of manufacturing experience.
Depending on their brand value and product quality, we think this is the best bottomless portafilter on our list.
Rancilio Silvia bottomless portafilter comes with a triple shot basket. It lets you extract up to 21 grams of coffee at once. So, enjoy more coffee with a single tamp.
This best bottomless portafilter for Rancilio Silvia is convenient for beginners. Besides, baristas who want to master their Espresso skill will also prefer it. This portafilter is a gem if you want to observe extraction issues or need better Crema on Espresso.
The head and basket of the portafilter are made of the finest stainless steel. They will never grow rust and interrupt extraction. You can clean them with any dishwasher liquid.
Moreover, Rancilio has used high-quality material to make its ergonomic handle. It looks excellent and feels great in hand.
The diameter of its head is 58 millimeters. So, this bottomless portafilter will be compatible with Rancilio Silvia Espresso machines with the same size group head.
Let us share a significant fact about Rancilio in the end. The company hires no third-party manufacturer to make its products. So, undoubtedly this portafilter is made in Italy by Rancilio, maintaining the highest standard.
This policy of Rancilio has made it a trustworthy brand among consumers.
Pros
Triple shot basket
OEM parts
Dishwasher safe
Cons
Compatible with a few models of Rancilio.
7. 54 mm Bottomless Portafilter for Delonghi

Delonghi is a popular Espresso machine manufacturer. They have a huge customer community. Sometimes, a few of them can also face extraction issues for many reasons. So, we have enlisted this item for Delonghi users.
This 54mm bottomless portafilter for Delonghi is usable with several Espresso machines. You need to find compatible models before buying. So, customers need to cross-check if it fits with their machines.
Using this bottomless portafilter, you can inspect the extraction abnormality of your Delonghi Espresso machine within a short time. Thus, you can effortlessly reduce channeling and spurting to improve your extraction skill.
Moreover, it helps to increase Crema by avoiding excess contact with spouts.
It comes with a 1 cup filter basket. So, there is no need to buy a separate basket if the quantity is sufficient for you.
Pros
Included filter basket
Dishwasher safe
High-quality material
Cons
Read More: Coffee Thermometer – Digital or Analog?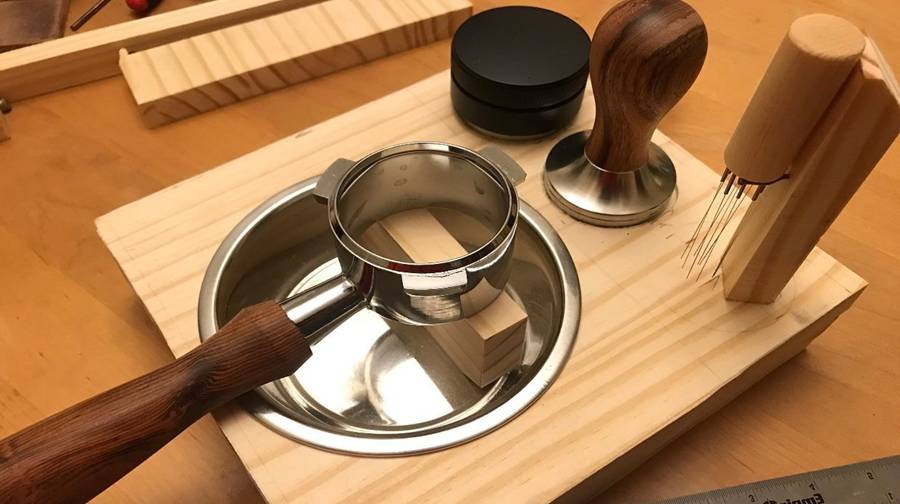 Frequently Asked Questions
Why Should You Get a Bottomless Portafilter?
A bottomless portafilter has no base. It means you can see the entire extraction directly. As a result, a bottomless portafilter benefits you to know if there is any extraction issue. So, it is a popular training tool for new baristas. Moreover, many users claim that bottomless portafilters create better Crema and taste. Therefore, you should try it if your want to see a different outcome.
Is a Bottomless Portafilter Better?
Espresso machine owners often like to participate in the bottomless portafilter vs. regular portafilter debate. In general, a bottomless portafilter is an extraction checker. It has a very different use than a regular portafilter. But, many users find it better to have excellent Crema
Conclusion
Bottomless portafilters are a very convenient tool to improve your Espresso quality. It lets you know of any extraction faults to rectify them later. So, it is conceivable how important it is to pick the best bottomless portafilter for your espresso machine.
We have reviewed some popular models in detail and discussed what to check before buying one. So, you can pick one from our list or get assistance from this article to buy another one.
Reference