Coffee ground tamping is an art. But, when you combine science with art, you will explore something innovative. Let's get introduced to the Force Tamper to get a revolutionary tamping experience and espresso quality.

The Force Tamper Specifications:
Automatic impact coffee tamper
Adjustable and optimal tamping pressure
Automated ground leveling function
Customizable and replaceable parts
Punch boost system
Available in different materials and base sizes
Distribution assistant (for distribution base only)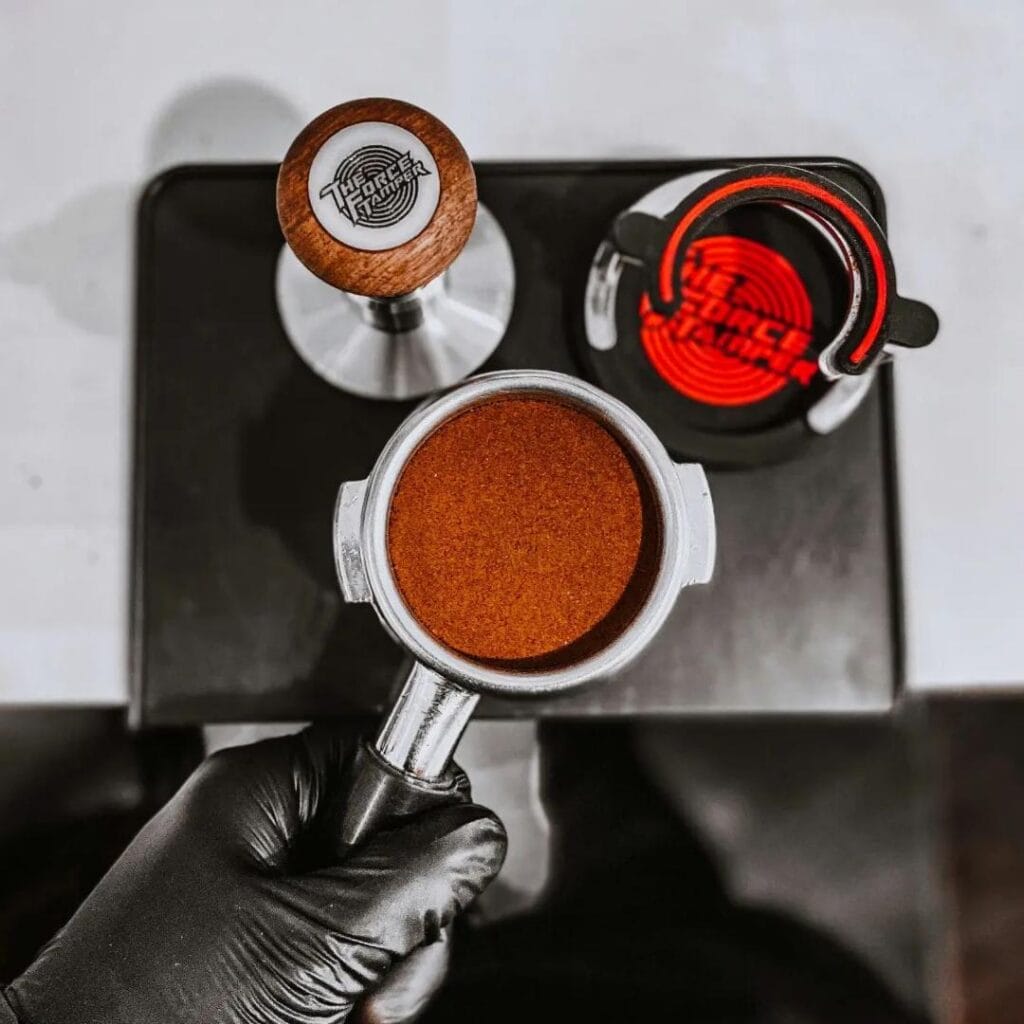 The Force Tamper Overview – Pros, Cons & Alternative
The Force Tamper brings a new concept of impact tamping, a scientific way of putting optimal pressure on the coffee ground. It is a type of calibrated espresso tamper, but it is more than that. You can adjust the pressure with a simple screwing mechanism that delivers a unique tamping experience.
Tamping and coffee ground distribution for espresso is an uphill task. But, the Force Tamper is built to make them easier and more relaxing. It helps professional baristas lessen the mental hassle and minimizes tamping mistakes.
Using this espresso tamper is not different than using the regular one. Grind the recommended coffee beans and fill your portafilter with the ground. To expect the best result from the tamper, you should avoid overdosing.
After filling your portafilter, put the tamper on ground coffee and spin the tamper to improve ground distribution. Finally, push the tamper down to complete the tamping process. Users are advised not to hold and spin the tamper after the impact. You should also pull it out slowly to avoid the vacuum effect.
The Force Tamper's handle and base have multiple variations that you can customize based on your choice. Its bases are made of food-grade stainless steel, and its handles are built with wood.
This tamping set includes a handle, a flat base, a silicon mat, and a portable carrying bag. The tamper's modern design keeps the optimal tamping pressure the same each time and makes a new coffee-making experience. So, it is a convenient espresso tool to have in your collection.
Pros of the Force Tamper:
The Force Tamper is a great tool for correcting common tamping issues. You can even customize the pressure that you always want.
Though it is expensive, the tamper is built with durable material, which will help you enjoy similar-grade espresso for longer.
It has different bases where you can pick the perfect one based on your requirement.
The Force Tamper is a multipurpose espresso tool. It does not only tamp the ground but also helps distribute them.
It can save time for baristas by easing the effort behind tamping pressure accuracy.
The tamper is also useful for home users struggling with forming a perfect coffee puck with optimal tamping technique.
Cons of the Force Tamper:
The Force Tamper is 3 to 4 times more expensive than the other calibrated tampers on the market.
If you fail to set the desired pressure before tamping, the result can be the opposite. You may get a too-tight or very-loose coffee puck that is bad for espresso.
Unlike manual tampers, Force Tamper needs frequent maintenance, which can be time-consuming.
Since it has different bases, you may need to buy several pieces to enjoy their advantages.
Read: WDT Tool for a Better Tamping Experience
Which Type of Portafilters does it Fit Well?
| | |
| --- | --- |
| Portafilter Size | Fitting Force Tamper's base diameter |
| Small | 53mm and 53.5mm |
| Medium | 54mm |
| Large | 58.35mm and 58.50mm |
It doesn't matter which type or brand's portafilter you have. The Force Tamper is built for all sizes and types of portafilters. All you have to do is to pick the right one after measuring your portafilter size.
Types of the Force Tamper:
The Force Tamper comes with some variation in its handle. You can choose any according to your preference. But, each has some uniqueness that is mentioned below.
Jelly: This version has a traditional espresso tamper's handle, is made of solid wood and is available in natural wooden color.
Ball: Its handle is ball-shaped and made of solid wood with excellent polish.
Mush: This version is unique because of its beautiful polish and mushroom-shaped wooden handle. It is quite comfortable to grip while tamping coffee grounds.
Triangle: The triangle version has a differently shaped handle from other models, which is made of rosewood. Besides, it is available with a flat base only.
Who is the Tamper Convenient for?
The Force Tamper is a handy item to ensure optimal tamping pressure each time and enjoy perfect espresso. Professional baristas can use it to save their precious time while tamping. Besides, home users can benefit since they no longer have to depend on guesswork.
Who is the Tamper Inconvenient for?
If you cannot set an accurate pressure, this tamper can bring the opposite result by forming too tight or loose coffee puck. Moreover, the Force Tamper will require more maintenance than regular tampers, which is a headache for beginners.
Read: Our Recommended Portafilter Dosing Cup to measure Coffee Grounds.
3 Best Force Tamper Alternatives for Home Baristas
After going through the overview and pros, it is not unusual to be a fan of the Force Tamper. But, the common pain point will be its higher price for most users. Fortunately, this one is not the only calibrated tamper in the market. We have also found some alternatives to this item at comfortable prices.
Normcore Spring Loaded Tamper can be a good alternative to this tamper at a reasonable price. The tamper is also available with 53.3mm and 58.5mm bases. Normcore tamper is also very stylish and looks gorgeous beside your espresso machine.
KAPE Calibrated Spring Loaded Tamper is another excellent alternative to Force Tamper. The best thing is that it also has five different sizes bases that can fit nearly all portafilters. KAPE is also very durable due to its metallic construction.
PUSEE Spring Loaded Tamper will remain ahead of KAPE since its base has six sizes. Moreover, it is the cheapest among the calibrated tampers we are discussing.
How Does a Force Tamper Work?
The force tamper has a unique formation and works in different mechanisms. Unlike manual static force, it creates a "punch impact" when pushed against the ground coffee in a portafilter.
This espresso tamper features a spring-loaded piston and an auto-leveling plate that provide a steady tamping surface. As a result, the tamper will generate the same pressure each time, no matter how you have pushed it.
Who makes the Force Tamper?
The Force Tamper is the brand name of the calibrated tamper produced by Canadian coffee accessory manufacturer Eight Ounce Coffee. The manufacturing unit of this tamper is situated in Guangzhou, China.